News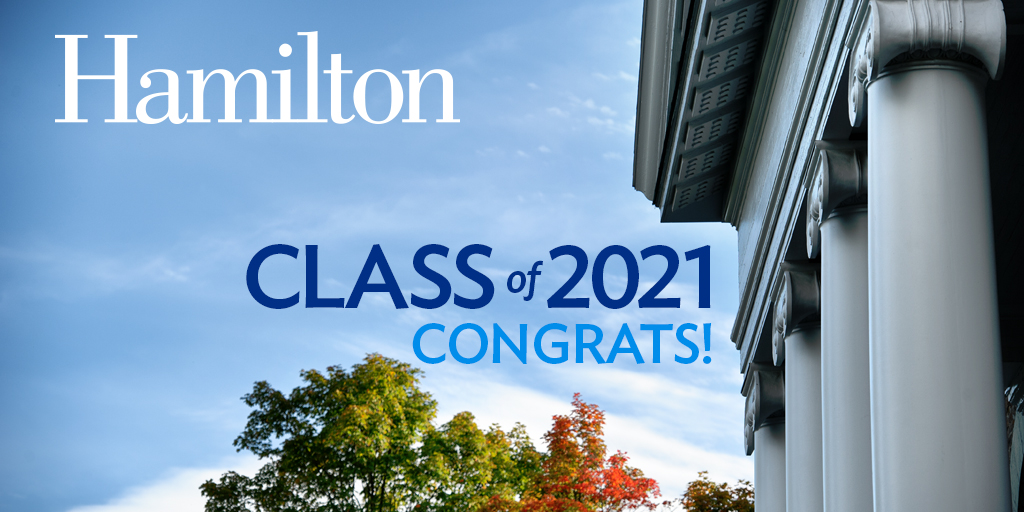 Students admitted for class of 2021 most diverse in Hamilton history
By Rylee Carrillo-Waggoner '19
April 6, 2017
On March 24, the Hamilton College Admission Office released this year's admission decisions. The office received a nine percent increase in applications, resulting in an all-time low acceptance rate of 23.6 percent. Both SAT and ACT score averages increased, and 85 percent of admits from high schools that rank were in the top 10 percent of their class.
Dean of Admission, Monica Inzer reported yet another increase: "An unprecedented 32 percent of admits identify as Black, Hispanic/Latino, Asian American, Native American or Multiracial students from the U.S.; an additional five percent are international citizens. This compares with final admit percentages of 28 percent and 5 percent last year and in 2015, and 26 percent and four percent in 2014. Our current admits hail from 45 states and 39 countries ranging from Bhutan and Ethiopia to Ghana and Kazakhstan. The five most represented states in our admit pool include NY, MA, CA, CT, NJ. Only 25 percent of admits come from our home state this year, which compares to 27-30 percent in recent years."
These new numbers have caused people to wonder what actions were taken to result in this increase. Inzer mentioned potential causes, such as a "new website with better and more prominent messaging designed for prospective families, amazing new virtual tour, excellent visit programs (interview outreach, diversity overnights, Hamilton Saturdays, etc.), data-informed travel and recruitment programs, increased emphasis on guidance counselor and community partnerships, continued efficiencies in our process to free up more time to provide better service to our visiting families and great new admission staff additions (plus our new president, who is an excellent ambassador for the college!). Of course everyone else thinks that our increase in applications is attributed to Hamilton, the musical. Of course it did not help, but we'd like to think that the Hamilton, the musical, is popular because of Hamilton, the college!"
Assistant Dean of Admission Mia Ritter suggested that it is less about changes in the process, though. Ritter notes, "Nothing changed, we still have a supplement, we still have all of the things that we believe we need to make an educated decision on the students, but I think we just really amped up our efforts in recruitment and we made sure that people felt like they were at home here. We wanted to make an impression, and we did." Ritter elaborates, "Generally when students apply from more disadvantaged backgrounds they don't always have the resources to make sure that their test scores are sent in, and everything costs something, unfortunately. We're very lucky because we waive a lot of those fees for students who can't afford to send anything in, but a lot of it is just getting the word out that we do waive those fees."
Assistant Dean of Admission Mia Rogers also works as the Coordinator of Diversity Recruitment. Underneath her supervision, students Amanda Hernandez '17 and Andres (Fluffy) Aguilar '19 intern for the diversity and access recruitment team, contacting students to make sure their applications are on track. Still, Ritter emphasized that diversity recruitment is not just the two of them or Mia; it is all of us… every single person on this staff deals with diversity recruitment." In conclusion, Ritter reflected, "we in our office are really proud of the work we do here, and our efforts have paid off. Hopefully you guys as students will feel the same way that we have recruited a really wonderful class that's diverse in so many ways and has incredible interests and wants to contribute to this community."
Inzer reiterated, "Needless to say, we are exceedingly proud of this year's admit cohort, and we hope you are as well. On behalf of the admission and financial aid teams, I want to thank all of the students who work with the admission office (as tour guides, hosts, diversity interns, student workers, interns) and those who help us in less formal ways by being wonderful Hamilton ambassadors. We're so lucky to represent your college and admit your future classmates and alumni and want you to know it is a responsibility we do with great pride and humility." Decisions are in and the admit pool looks promising. Now the admissions office is focused on getting students to actually commit and will spend all of April focusing on this goal.