News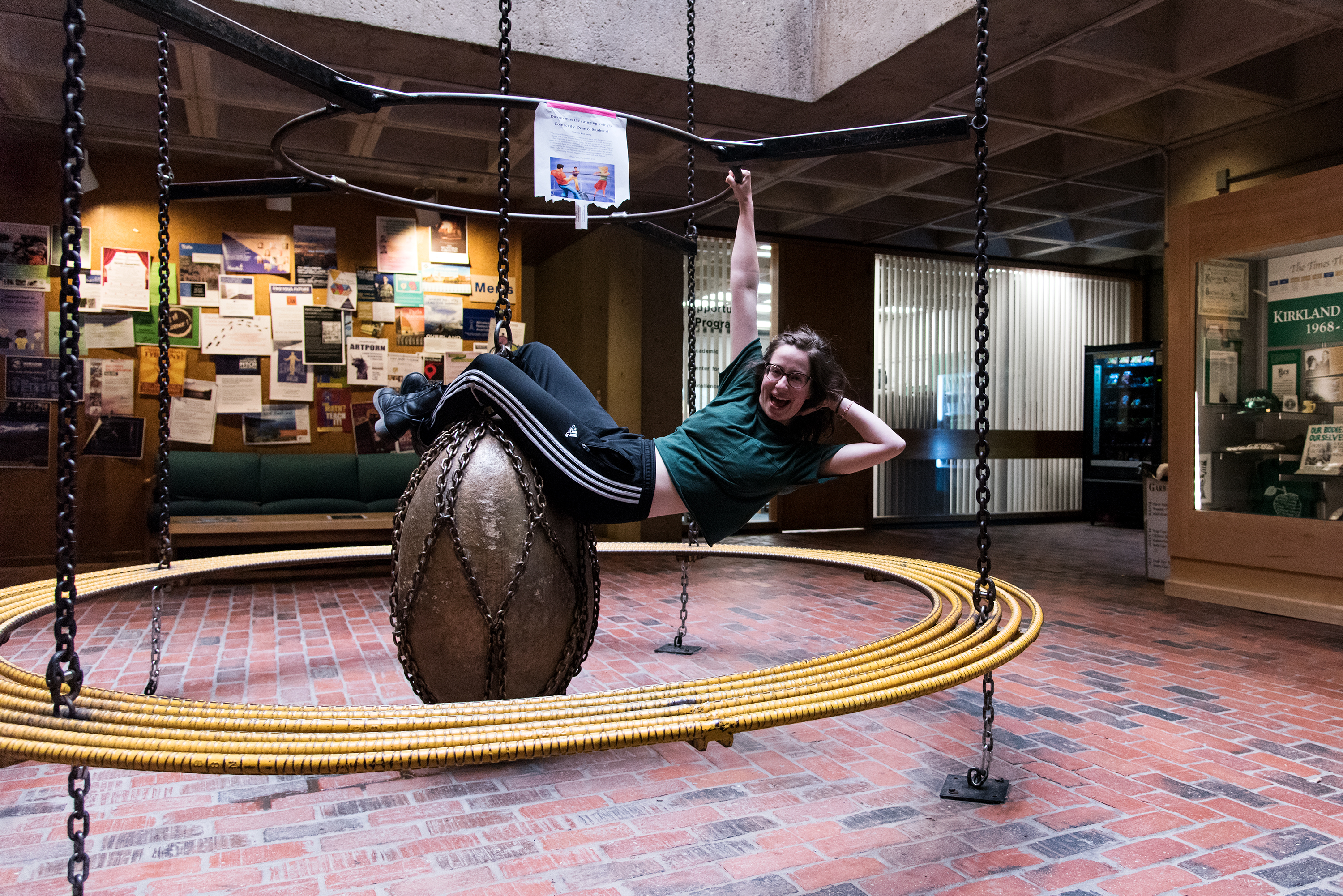 Rock Swing mysteriously free
By Madeline Maher '18
April 20, 2017
In the afternoon of Thursday, April 13, Snapchat videos and Instagram boomerangs of the McEwen rock swing, unchained and in motion once more, flooded phones all over Hamilton's campus. Despite the social media frenzy, the swing was re-chained by Physical Plant before the end of the academic day. According to Associate Director of Physical Plant for Building Services William Huggins, the restraining chains had been cut by an unknown person using bolt cutters.
The rock swing, which spans both floors of McEwen, was designed and constructed in the seventies by a Kirkland art major and a Hamilton physics major as a joint thesis project. According to Hamilton folklore, if four or more people stand opposite each other on the circular base and sway from side to side in unison, the swing can be raised as high as the second floor of McEwen. The rock at the swing's base was allegedly unearthed when Kirkland's campus was under construction, making the entire installation a unique homage to the joining of the two colleges as well as a celebration of Kirkland College's artistic focus. The swing was chained down in 2015 after one of the supporting anchors came loose from the ceiling. Following that instance, Campus Safety found additional structural stress on both the swing and the building.
In response to the unchaining and re-chaining of the swing, Campus Safety Director Francis Coots said: "We are concerned about the safety of the college community which includes anyone who may have access to the swing. It has been part of our history for quite some time, and we feel keeping it secured allows everyone to appreciate its significance to the College as well as keeping us all safe."
Student response to the incident, on the other hand, was overwhelmingly positive. Some felt that seeing the swing in motion enhanced the school's sense of community and tradition. "The rock swing's history is such a fun story to tell on tours" says Hamilton Tour Guide Elias Clough '17, "so it was really exciting to see it in action." Other students also noted the artistic and historical significance of the swing's unchaining and rechaining. "As a female student, I think it's a shame that one of the few unique remnants of the artistic tradition that Kirkland has left us with is so physically and publically censored" says Taryn Ruff '17, who feels that chaining the swing disrupts the original artistic intention of the installation.
The incident has also lead to an on campus movement for the permanent unchaining of the swing. In the days following the incident, signs reading "Do You Miss the Swinging Swing?? Contact the Dean of Students Office" appeared all over campus. Despite these calls for action, the College has no current plans to let the swing swing freely once again.