News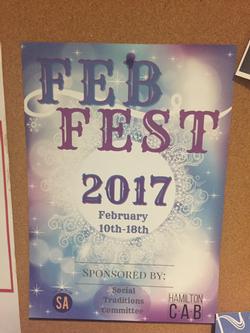 Annual Feb Fest Week proves successful yet again
By Emily Eisler '17
February 16, 2017
This year's Feb Fest is looking to best past years' by combining new events with past Fest's greatest hits.
The Fest kicked off with the annual Delta Upsilon Annex Valentine's affair on the night of Friday Feb. 10, "DU Want to Be My Valentine?" The next day the Inter-Society Council held a philanthropy event titled the Charity Fun(d) Fest. The night of competition benefitted Planned Parenthood, Be The Match, No One Left Behind, and the Midtown Utica Community Center. They raised a lot of the money through entry fees and the competitions consisted of relay races and orientation games. Sunday's HamSkate was cancelled due to inclement weather, but Monday night more than made up for the pause in the festivities. The Little Pub held a local beverage tasting for students over 21 before the annual Mr. Hamilton pageant. Contestant Brian Burns '17 commented, "It was a great experience to do in my senior year and I hope people liked my performance." Students afterward were able to hit up Commons for Midnight Breakfast, although it only went until 11:30p.m.
Valentine's Day hosted a chocolate tasting in Sadove at the same time as a Valentine Making Station sponsored by HAVOC. Later that night both the annual FEMME and Banff Mountain Film Festival events occured. FEMME featured women and those not identifying with the gender binary performing monologues on various issues while the Banff Festival, put on by the Outing Club and Glen House, showed winter sports films.
Feb. 15 held the most talked about event, CAB's comedian guest Pete Davidson from Saturday Night Live after another Pub beverage tasting event. Feb. 16 will have its own CAB event with an Acoustic Coffeehouse featuring Oh Land, and that afternoon, Sadove will host a Cheese Tasting. Finally, Friday Feb. 17 will finish off the week with a Happy Hour at the Little Pub, an a capella concert and the renowned Rocky Horror Party in the Annex.