A&E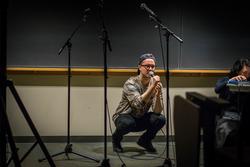 Red Weather's ARTPORN brings Poet Jacob Brooks and Audio Engineer Maya Chun to the Hill
By Zac Ball '20
April 27, 2017
Last Thursday, April 20, Red Weather brought artists Jacob Brooks and Maya Chun to campus. Walking into the underground space, it was dark– the perfect environment for an avant garde poetry reading. The queer performance consisted of poetry readings by Hamilton students Mac Doherty '18, Matt Albino '19 and Michigan-based writer and office worker Jacob Brooks, with sound effects by Maya Chun. The students read three poems each to begin the performance, followed by a visual exercise orchestrated by Brooks and Chun.
Doherty was introduced as an aspiring teacher and Twitter-loving poet; she read three original poems: "Poem Baby," "Point Judith" and "Beans." The environment was quiet as she read emotional and raw poems. Albino followed, introduced also as a lover of the Twitterverse and an explorer of gay outer space. He read three original poems, including "Magma Dome," "The Way You Love Her" and "Another Straight Person Smiled at Me and Said I Need to Learn How to Love Myself," that perfectly blended serious emotion with a profound sense of humor. For both students, the audience was quiet and enraptured by the poems.
The mood in the room shifted when Jacob Brooks took the stage. He stood in front of the room, vulnerable, and presented his chapbook–ARTPORN–in collaboration with Maya Chun. While Doherty and Albino started with a very coffeehouse vibe, Brooks changed it quickly with a visual exercise experience. Chun, a Michigan based audio engineer, composed music that overlaid Jacob's performance of his chapbook.
The experience began focusing on two white male humanities students alone in a dorm room together––the sound for this was hushed. As the exercise progressed though, the sound effects got louder and more intense as the mood in the poetry shifted and added to the audio and visual experience.
At times, it may have been difficult to understand all of his words but still his message was delivered to the audience by way of the multimedia technique. The distraction of the sound, it seemed, was intended to intensify the experience and the gravity of his work as pertaining to emphasis on the importance being open.
The whole performance of ARTPORN lasted under an hour; during that time, Jacob also played around with planes of space, crouching or squatting at times and standing hunched over at others. The diversity of his audio and visual techniques brought his chapbook to life, as he challenged social issues and labels.
Overall, the performance was creative, purposeful and innovative in its incorporation of sound effects.