A&E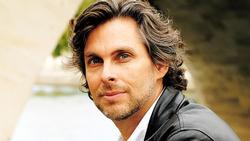 Michael Chabon delivers 2015 Tolles lecture
By Brian Burns '17
April 3, 2015
Pulitzer prize-winning author Michael Chabon, the newest speaker in the Winton J. Tolles Lecture series, imbued his address at the Chapel podium with his signature wit and lyrical prose. The critically acclaimed writer was remarkably down-to-earth, coming across as sharp and quick-witted in his comments before and after his reading. Overall, Chabon left the Hamilton community enthralled.
Professor of English Naomi Guttman introduced Chabon by listing his manifold credits as an author, screenwriter, comics writer and lyricist. She also read a sentence from Chabon's widely heralded book The Adventures of Kavalier and Clay that she felt captured the poetic verve of his prose – an amalgam of consonants and vowels that Guttman described as being like a "waterfall."
Chabon was funny and self-deprecating as he took the stage. In the spirit of April Fool's Day, he declared that he was not Michael Chabon but an imposter and proceeded to feign ripping off a mask. Chabon also told a story of how he was once mistaken for another famous author.
As a preface to his reading, Chabon explained his origins in Columbia, Maryland, which he described as being built as he was living in it. Chabon recalled that in his childhood, the map of Columbia and the maps of the fantasy lands he read of in books would "mix" together. For instance, he acknowledged the time he spent time in J.R.R. Tolkien's hideaway of "Hobbit Glen" in his youth. However, Chabon's childhood was not without its angst. Chabon described a time of heightened emotion during the dissolution of his parents' marriage in which he yearned to escape his household.
The story he read concerned his attempts to cull compelling anecdotes from his childhood summers for an assignment from The Washington Post. The author's first two drafts concerned, alternately, the cultural obsessions of him and his best friend in high school (ranging from Arthur Miller to Francis Ford Coppola) and the middle school friend with whom he fostered a mutual dislike. Unable to generate a worthwhile story, Chabon decided to craft a work of fiction. To illustrate the difference between fiction and non-fiction writing, Chabon described fiction-writing as taking the stories of yourself and those you know and "betraying them."
The story that Chabon produced, and eventually submitted, involved a boy who is forced by his grandmother to befriend his next-door neighbor, a crippled child. The two foster a relationship over the course of a single hot summer day. The story was alive with the poetry that Guttman previously lauded. For instance, Chabon describes the main character's grandmother as depositing him at the home of the crippled boy like a "casserole."
After submitting his short story to The Washington Post, an editor informed Chabon that the publication was interested in memoirs, not works of fiction. After Chabon inquired whether the publication could still publish his article, the editor informed him, "This is The Washington Post. We print the facts."
The lecture ended in ecstatic applause from the audience. For the question and answer segment, Chabon provided the answers to questions that audience members had written on index cards. Chabon described everything from his preference for typing over longhand to his experience as a lyricist on Mark Ronson's album Uptown Special (it was Ronson who, as a fan of Chabon, approached the author). When asked how one should regard the balance between creative genius and commercial success, Chabon wryly answered, "You can't have too much of either." When asked what shows currently occupied his Netflix queue, Chabon answered that he was formerly a fan of House of Cards until he felt it "fell apart." Chabon noted how his wife's fandom of the show was so great that she once picked a fight with her husband so he would leave the room and she could finish the season.
Chabon also offered advice for aspiring writers. When asked how he was able to create such three-dimensional characters for the novel The Adventures of Kavalier and Clay, Chabon acknowledged the importance of practice. He quoted famous MLB executive Branch Rickey, who said, "luck is the residue of design." He said of a career in writing, "Don't do it unless you need to," because in his own words "it still sucks a lot of the time." Chabon went on to describe the boredom of a life as a novelist – the days locked behind closed doors "hoping no one will bother you."
Chabon's awe-inspiring talent in written word was matched by his deft oratory ability. If anything, his address will encourage every Hamilton student in attendance to voraciously consume his novels.