Sports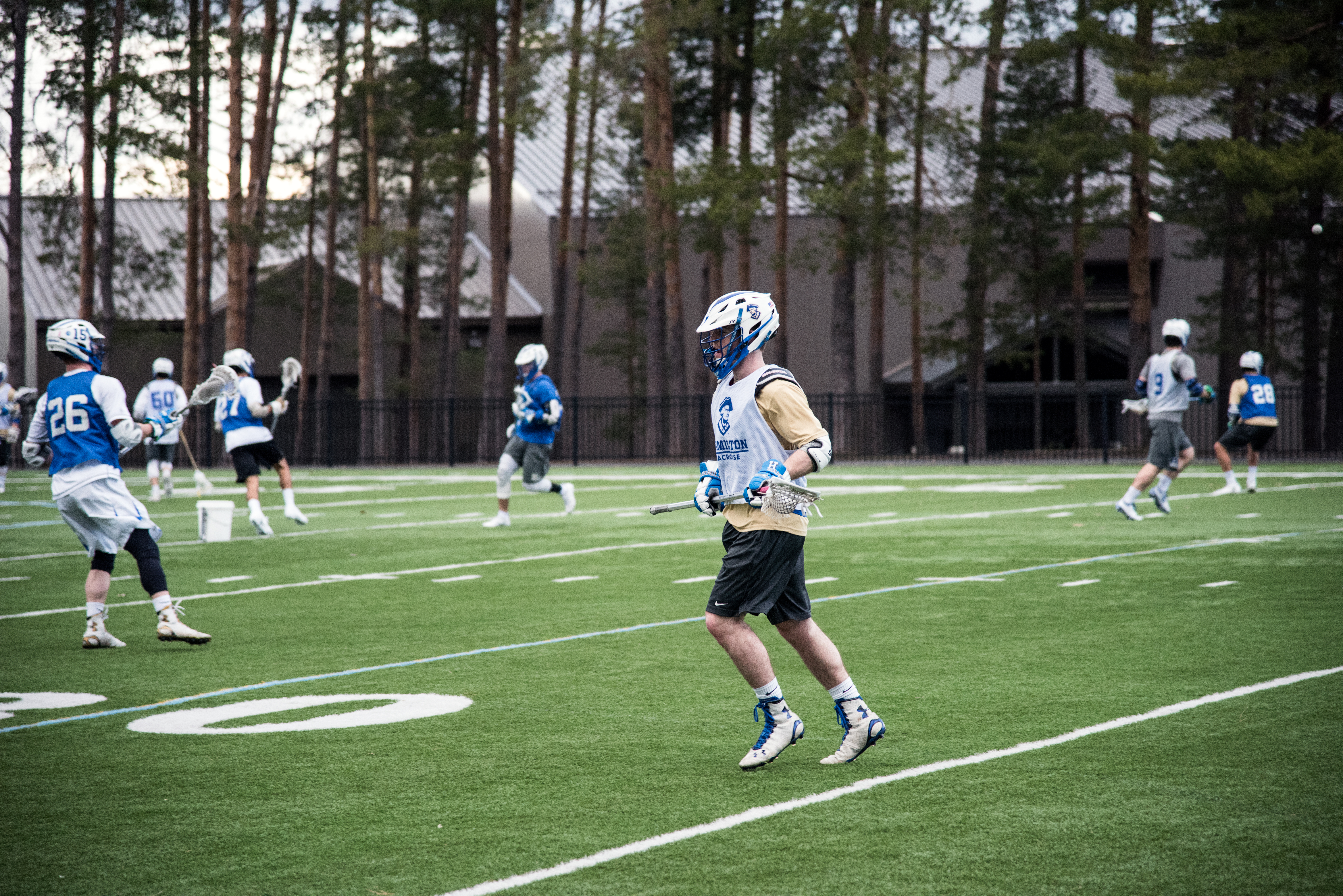 Men's lacrosse seeks to avenge disappointing 2016 season
By Will Rasenberger '19
March 2, 2017
Though the recent stretch of warm days and clear skies has been a frustrating tease, it has also been a pleasant reminder that spring is around the corner, and that Hamilton men's lacrosse will be hitting the turf soon. Last year's losing record means that this year's team will be "playing with a chip on their shoulder," according to Head Coach Scott Barnard. The team's unequivocal goal, and expectation, is to make the NECAC playoffs and host. The recent successes of the men's soccer and hockey teams give Coach Barnard hope for his own men. "Our expectation is to host. If you don't believe that, then you shouldn't be in this business."
Last year, before the Hamilton men's lacrosse team had even had a formal practice, then-Captain Sam Sweet '16 said that he liked what he saw in the new class of first-years. He remarked that, for the first time as a member of Hamilton lacrosse team, he felt as if the pieces had come together for a winning push. In fact, he was guardedly getting his hopes up for a championship campaign. The last few years have generally been disappointments with only rare moments of celebration and Sweet desperately wanted to end his Hamilton career on a winning note. It goes without saying that the ensuing season fell well short of his expectations. Despite Sweet's heroic contributions throughout the Spring—he racked up a team-high 46 points with a shot percentage just short of 25 percent—the Hamilton men finished the season with only one NESCAC victory and an overall record of 4-11. The graduating class naturally played a large role in settling the offense and the defense. Their absence will not go unnoticed as this year's squad tries to acquaint itself with the offensive and defensive systems.
In addition to Sweet, the impacts of midfielders Pat Donahoe '16 and Joe Ricciutti '16, both of whom scored regularly and provided stability on the offensive end, and Sweet's co-captain Sellers Garrett '16, a defenseman who racked up a team second-best 25 ground balls, will surely be missed. Coach Barnard commented on the size of last year's graduating class and suggested that the roster vacuum this year will be filled largely with freshmen. "There's a lot of new guys that will have to step up this year," Barnard emphasized. There are two new starting attackmen, three new starting midfielders, and two new starting defensemen. In contrast to last year, with most of the heavy offensive lifting done by a handful of seniors, this year's team promises improved versatility. "The versatility is really what sets us apart from last year. In a scrimmage we had last week we had six different midfielders score and all in different ways," Barnard said excitedly.
Nate Weinrauch '17, a senior attackman, will have big shoes to fill—namely those of Sweet's—in his new role as de facto quarterback of the offense. Barnard highlighted the ease with which players who previously saw the field only in limited stretches are stepping into their new roles. In addition to Weinrauch, according to Barnard, the transition from last season to this spring's will be smoothed over by Clay McCollum '19, a sophomore who accrued 35 points in his freshman campaign last season. McCollum's 35 points ranked second on the team behind just Garrett. Andrew Cox '20, Brock Bowers '20 and sophomore defenseman Robby Arrix '19 also look to fill roles previously filled by graduating seniors.
The outlook for this season is bright. Besides the new players, the team's new face will consist of faster play on the offensive side of the ball. This will likely mean an emphasis on efficient clearing, quick passing with the goal of opening shooters up and taking open shots. "There are keys to winning," Barnard explained, "and one of them is clearing, which we did a great job of last season, but we need to generate more offense early." On the defensive end, Barnard suggested that the team will work to have a formidable on-ball presence. Last year's squad struggled with allowing too many points towards the end of quarters, so Barnard will work with the defense to help finish quarters strongly.
The lacrosse men will open up the home field this coming Saturday, March 4th. Unfortunately, the game will conflict with the men's hockey playoff game and attendance will likely be low. Fans of NESCAC play, however, can look forward to March 25 when perennial playoff squad Amherst visits and the April 11 home matchup with Williams. "Last year," Coach Barnard pointed out, the team "started off handily with a 3-1 record and votes from national top 20 polls." The subsequent "string of losses," as Coach Barnard phrased it, will serve to motivate the men this year. "We set goals that are attainable and achievable and we think that we will make the playoffs and host this year," Barnard exclaimed.