Sports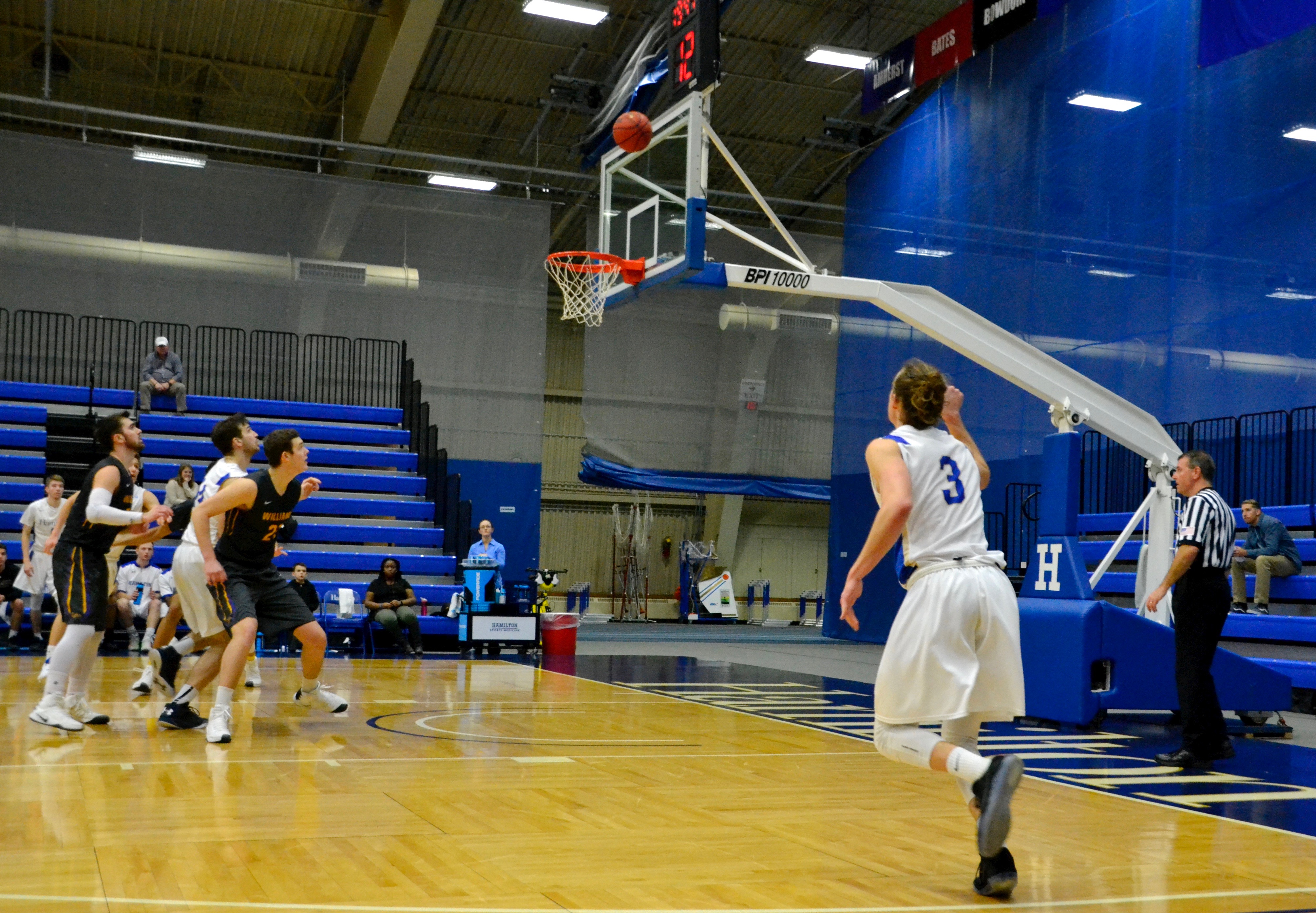 Men's basketball relishes opportunity to prove themselves in NESCAC playoffs
By Levi Lorenzo '19
February 16, 2017
Any team seeded last in a playoff tournament knows it is an underdog. That said, every team in the playoffs cherishes its opportunity and believes they can win. While the men's basketball team is seeded eighth in the eight-team NESCAC playoff tournament, the players are not short on optimism. Hamilton faces a daunting task: they will have to win three games on the road against the conference's best teams. In the NESCAC playoffs, unlike in some other tournaments such as the Division I basketball playoffs, the teams are reseeded after each round. Hamilton, as the lowest-seed in the tournament, will have to face the highest-seeded team remaining in each round.
Hamilton's first challenge is this Saturday, when the Continentals travel to Medford, MA to take on the top seeded Tufts Jumbos. The Jumbos boast an 8-2 conference record and defeated Hamilton 94-81 in Medford when they last met on Jan. 14. Tufts' two conference losses came at the hands of Amherst, the NESCAC regular season runner-up, and Bates, who claimed the seventh seed over Hamilton on a head-to-head play tiebreaker. The Continentals are not afraid of this match-up and, in fact, look forward to the chance at a re-match with the Jumbos. Hamilton Head Coach Adam Stockwell commented that, "We are excited about the opportunity to compete against Tufts in the playoffs. After playing there in the regular season and not having one of our stronger games, we are excited to show that we are a better team than we showed in that game."
Pete Hoffman '19, Michael Grassey '19 and Kena Gilmour '20 figure to lead this young team in the playoffs; all three averaged double digit points this season, with Hoffman scoring 16.9 per game, Grassey 13.0 and Gilmour 12.0. Andrew Groll '19 has been the leading rebounder for the Continentals, pulling down 7.7 per game, with Grassey and Hoffman not far behind in second and third with 6.5 and 5.6 respectively. Point guard Jack Dwyer '18 who, along with Groll, were the only players to start all 23 games, is the team's key distributor, averaging 5.5 assists per game. Dwyer, Groll, Grassey, Hoffman and Joe Pucci '18 accounted for all but four of the team's 115 starts on the season heading into the Cobleskill game. While Gilmour averaged just 18 minutes per game, he made the most of his playing time in his first season.
When asked which elements of their game the Continentals needed to excel at in order to defeat Tufts, who finished with a 19-5 record overall, Stockwell explained, "We are looking at our depth, pace of play, our shooting ability, and team chemistry as our primary strengths heading into Saturday." Stockwell also added that the team is hard at work to perfect its game and improve upon its weaknesses, saying that they "are focusing on the little details that make such a large difference over the course of the game whether it is our decision making, shot selection, boxing out, or the proper spacing on the court." More specifically, veteran Wes Wilbur '17 adds, "One of our main focuses is to limit their transition game while creating more transition opportunities for us. Our transition offense has been really successful all year, and if we can get it going it is going to be good for us."
Hamilton finished conference play on a 1-3 skid, and with this slide they fell out of position for a home playoff game. While they may not have momentum going into the playoffs, they are not letting the slump affect their outlook: "certainly losing three of our last four was disappointing but we are really looking forward to this weekend to get a chance to play a team that we have played already," said Wilbur, who added, "We have a game... at SUNY Cobleskill where we will try to sure up everything for Saturday at Tufts."
The Continentals took care of business in that game against Cobleskill on Tuesday, defeating the Fighting Tigers 79-76. Gilmour led the charge for the Continentals, scoring 19 points while grabbing six rebounds and picking up two steals and assists apiece. Hoffman also had an outstanding game, totaling 18 points and seven rebounds as well. Tim Doyle '19 was Hamilton's third double-digit scorer, finishing with 13 points in his third start on the season, while Dwyer dished out seven assists.
All season, Hamilton has remained confident in the face of tough losses. "The way our team is and has been all year is that we're all pretty sure of our abilities and are confident," noted Wilbur. He believes this game is no different: "The message will always read the same, if we play our hardest and our best, we are good enough to beat anyone." While winning three games against the conference's best teams is no easy task, The Continentals believe it can be done and are doing their best to remain calm, work hard and treat each game just as they have every other. Wilbur reaffirmed this belief, saying, "As for the tournament itself, we're going into it just as three more games. Overhyping and overthinking isn't good for anyone." Hamilton has the ability to win this tournament but needs to work hard and execute to do so. Says Wilbur: "Going into these games knowing that if we play hard and play well we can beat anyone is all we need to be thinking about." With the right mentality, tireless intensity and inspired performance, the Continentals just might take home the NESCAC crown.