News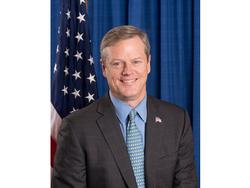 Mass. Governor Charlie Baker to speak at 2017 commencement
By Ilana Schwartz '17
March 2, 2017
On Sunday, May 21, 511 seniors are expected to walk across the stage in the Margaret Bundy Scott Field House and become alumni. At 10:30 a.m. on that day, Massachusetts Governor Charlie Baker will deliver the Commencement address to outgoing students and their friends and families.
Governor Baker received his bachelor's degree from Harvard University in 1979 and later received an MBA from Northwestern University's Kellogg School of Management. After working in the Massachusetts state government for nearly 20 years, he left politics to become the CEO of Harvard Pilgrim Health Care. In 2014, Baker re-entered politics through his successful gubernatorial campaign and was inaugurated as the 72nd Governor of the Commonwealth of Massachusetts in January 2015.
Governor Baker, a Needham, M.A. native, has spent his career working hard to "make Massachusetts a truly great place to live, work, start a business and raise a family," according to his website. He has closed two budget gaps worth more than $2 billion while avoiding tax increases, invested in public transportation infrastructure and increased education funding throughout the state, while addressing the state's opioid and heroin epidemic. Among many other accomplishments, he has taken steps to lower the state's energy costs and reform its regulatory environment.
In addition to delivering the commencement address, Governor Baker will receive an honorary degree at the ceremony, fulfilling his lifelong goal of receiving a Hamilton degree. When several alumni read a Proust Questionnaire by Governor Baker in a 2014 issue of the Boston Globe, where he claimed that his biggest regret was "not going to Hamilton College" because he "never really felt comfortable at Harvard," they proposed Baker as an honorary degree candidate. According to Interim Vice President of Communications and Development Lori Dennison '87, President Stewart reached out to Baker later that year, and after being recommended by other alumni, he was added to the list of honorary degree nominees.
The Board of Trustees' Committee on Honorary Degrees, which consists of several members of the Board of Trustees, three faculty members and three students, chose Governor Baker through a selection process that could take up to two years. The Committee recommends nominees to the Board for final approval. According to the honorary degree guidelines, "with the awarding of an honorary degree, the College recognizes distinguished achievement. It may be personal achievement in contributing to social progress or the advancement of knowledge or culture or public achievement in the service of government, business, an institution or the community." Generally, the candidate's contributions reflect the values for which the College stands and "the candidate should bring honor to the College, and the College should bring honor to the candidate."
Honorary degrees will also be awarded to Hamilton alumna Nancy Roob '87 and trustee Adam Weinberg.
Roob, who will deliver the Baccalaureate address on Saturday, May 20 at 3 p.m. in the Scott Field House, is the president and CEO of the Edna McConnell Clark Foundation, which is a New York-based organization that provides opportunities for low-income youth in the United States. She is also the CEO of Blue Meridian Partners, a philanthropic organization that plans to invest $1 billion in nonprofit organizations to "make a national impact on economically disadvantaged children and youth," according to the foundation's website. Her work launching neighborhood-stabilization projects in the South Bronx and Central Harlem inspired federal legislation for "Promise Neighborhoods" throughout the nation.
Weinberg, the Alice Pratt Brown Director of the Whitney Museum since 2003, graduated from Brandeis University and obtained a master's degree from the Visual Studies Workshop at SUNY Buffalo. During his tenure, the Whitney put together many exhibitions on emerging, mid-career and senior artists, offered award-winning educational programs, experienced growth in its permanent collection and increased its performance programs. The museum also opened a new 220,000-square-foot building in the Meatpacking district, designed by world-renowned architect Renzo Piano. Weinberg has curated a wide variety of expeditions, including ones on artists from Edward Hopper, Richard Pousette-Dart and Isamu Noguchi to Alex Katz, Robert Mangold and Frank Stella.
A fourth and final honorary degree will be awarded, but the recipient has not yet been confirmed.
Although the topic of Governor Baker's commencement address remains unknown, Dennison explained, "I've attended more than 25 Hamilton commencements, and every speaker is different. I'm as eager as the Class of 2017 to hear what he has to say!"