Features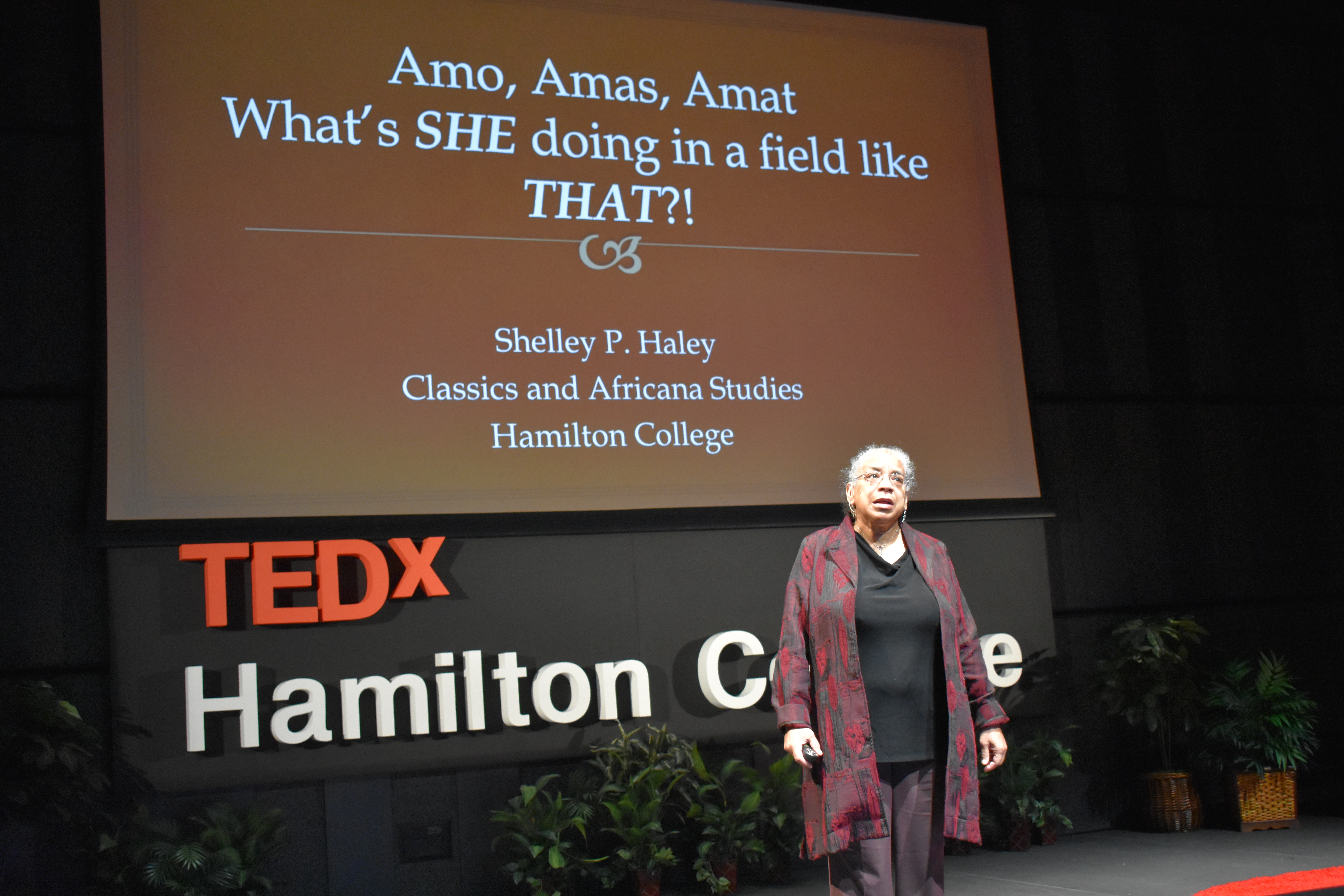 TEDx at Hamilton College
By Michelle Chung '20
February 16, 2017
Speaking, listening and acting proactively and effectively are three of the skill sets that Hamilton embraces, in the hopes that its students will become talented speakers with the ability to one day change the world. During this past weekend at the annual TEDx conference, themed "Against the Grain," four speakers from across the country visited the college campus to offer inspiration for these behavioral goals.
Since the TEDxHamiltonCollege chapter was founded in 2015, its members wanted to focus on bringing fresh, unique perspectives to speak on campus. TEDxHamiltonCollege curators Alexandru Hirsu '17 and Jeremy Acosta '17 were both part of the original team that worked on the first TEDx conference and helped create the theme for this year's conference. "Against the Grain" focused on how moving away from the norm can be a positive experience.
When asked about the inspiration for the theme, Hirsu reasoned "the theme would suit both the college environment and would be broad enough to include talks from different areas," as one talk focused on going against the grain in a digital world and another talk focused on more personal, direct decisions. Also, "The campus itself fits into the theme very well: students go against the grain coming to a place in a less populated area, far from big cities such as New York or Boston."
Dr. Joe Panepinto '85, currently the Senior Vice President at Genuine, LLC and a Hamilton alum, led the event with his talk titled, "You should also consider…" He questioned how social media algorithms and the computer feature phrases such as: "You might also like..." constantly showing users the same types of products, advertisements and ideas over and over again, based on what they've searched for in their history.
Through his proposal, rather than showing products the user would most likely enjoy, the algorithms would show everything the user "should consider" instead, including products that they would probably not immediately think of buying or viewing. According to Panepinto, such features would "fulfill the early promise of the Internet to broaden our points of reference by exposing us to things we wouldn't normally consider."
Subsequently, speaker Dr. Abby Hardgrove relayed how a conversation with a student got her thinking about the long history of struggle and conflict, in her talk, "Emancipate the Oppressor." With a Ph.D. in Development Studies from the University of Oxford, and a great amount of knowledge on the conflict between youth, especially in developing countries, Hardgrove stated that "the conflict, the exclusion, the prejudice will stop when the privileged among us start admitting how deeply unhappy and hard-hearted we have become."
Dr. Shelley Haley is a Professor of Classics and Africana Studies at Hamilton whose talk "Amo, amas, amat: what's SHE doing in a field like THAT?!" focused on the criticism she received from being a black woman and a feminist who taught in a traditional Humanities discipline. She sad, "I have come to realize that I, like other black women, go against the grain simply because I exist and survive," not following through with many of the expectations and assumptions imposed onto her.
Saxon Kincy, an up-and-coming rapper from L.A., ended the conference with his talk, titled "Do Not Wait," which emphasized the importance of seizing every opportunity, exemplified by his own experiences when he did not wait to get out of homelessness before writing his own music and rapping.
While most artists often sing about lives of luxury and riches, Kincy spoke about how many of his personal experiences didn't live up to those expectations. Even so, he still wrote songs about living in his car and enduring struggles once he "realized [his] story was valuable because it was unique." He enticed the audience to ponder on their own stories, stating, "Think about how we consider collector's items valuable specifically because there are not a lot of them made. Your story isn't boring; it's a collector's item."
TEDx conferences are not only engaging, interesting and simply fun to watch; they are also inspiring, especially in that Hamilton students can listen to the perspectives of others and understand the people around them, possibly taking on new thoughts, ideas and lifestyles.