Features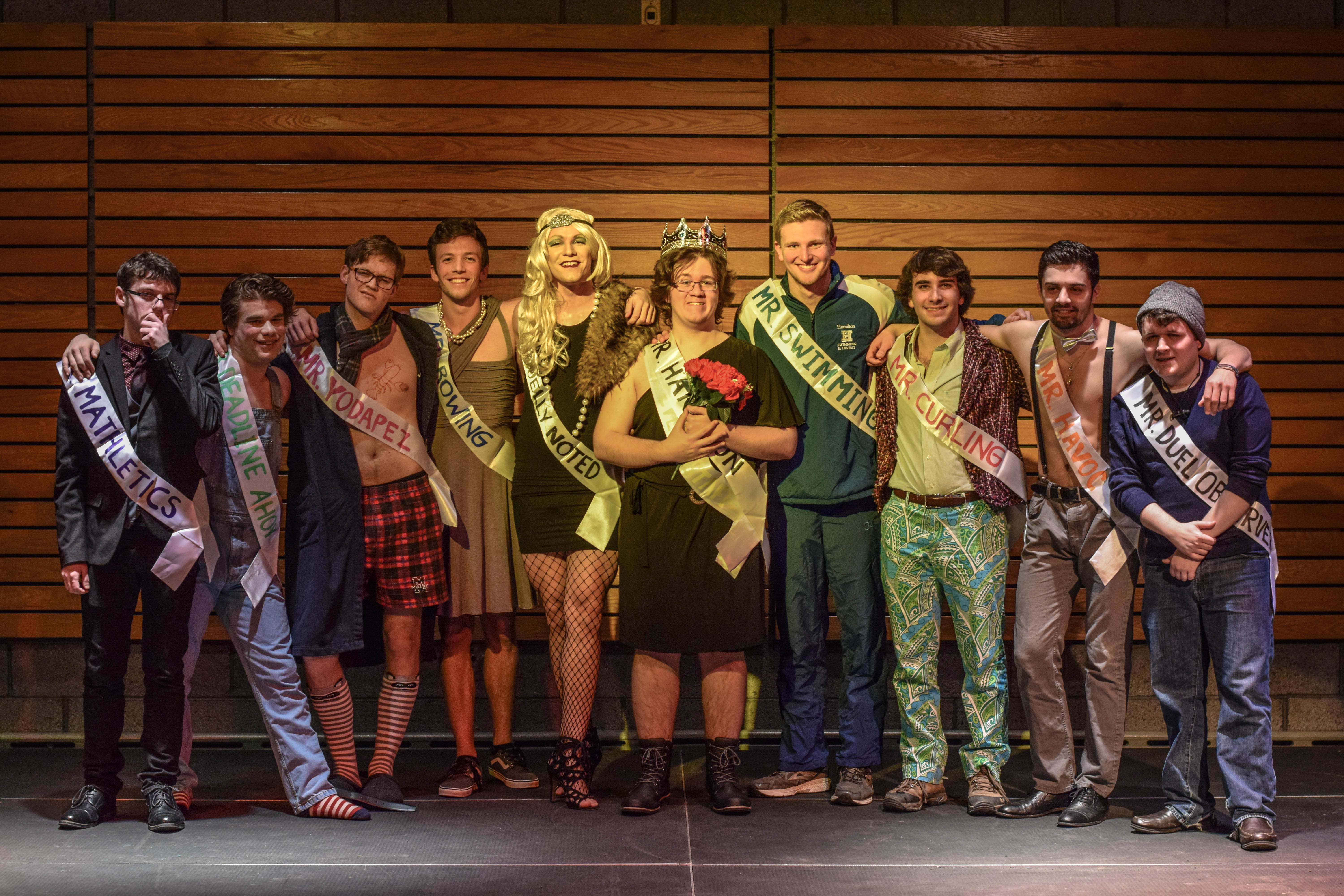 Mr. Right for Mr. Hamilton
By Rachel Zuckerman '19
February 16, 2017
With the atrocities that we call an upstate New York winter finally hitting hard enough that Hamilton students are refusing to leave their beds, except for the occasional meal or participation-heavy class, FebFest has come to the rescue. To start off the week-long celebration, Social Traditions held their annual Mr. Hamilton pageant the evening of Monday, Feb. 13.
The night was broken up into three categories: eveningwear, talent and a question and answer session. While each of the ten contestants garnered applause and cheers from the crowd during their bios, it was not until the talent section that both the judges and the audience understood what was to come.
Talents almost exclusively consisted of comedy or song; Mr. Mathletics, Alex E. Black '19, shocked the crowd by peeling an orange, eating the peel, then throwing the edible part of the fruit into the audience. Mr. HAVOC, James Mesiti '17, called his muse, Olivia from Ohio, onto the stage before stripping down and canola-oiling up to read her some Spanish poetry, that, I regret to inform you, very few audience members understood. We can only hope it was rated PG-13.
Other crowd pleasers included Mr. Duel Observer, Brian Burns' '17, politically charged "F*ck It Diet" which, he says, has caused him to gain 10 or so pounds since Election Day; Mr. Duelly Noted, Ben Goldman's '17 impressive strut and dance in what appeared to be five inch heels (that judge and Dean of Students Nancy Thompson said she'd love to borrow (and we agree) and the "Ode to President Wippman," as performed by Mr. Yodapez, Alex Fugeson '17.
In terms of the question and answer portion of the competition, Mr. Swim & Dive, Ryan Cassidy '17 stole the show. When asked where he would want to go if he could go back in time, Cassidy said, "I would have to say Oct. 12, 2013 in Bundy Dining Hall because I would really like to remember what happened that night." We've all been there Mr. Swim, but not all of us want to remember.
Further thought-provoking responses included Goldman's response of "more queer students" to the question asking how to make Hamilton grounds safer while maintaining environmental friendliness; Andrew Fletcher '17, Mr. Curling's response of "Wait, we have a streaking policy? There shouldn't be one" when asked about said policy.
All in all the pageant proved quite entertaining and the perfect start to FebFest. When asked about her favorite contestant, Sara Luster '19 said, "I really liked Mr. Deadline Ahoy because his dance was hilarious and creative. I don't know what Deadline Ahoy is and his explanation really wasn't all that helpful but it was really cool to see a first year put himself out there like that."
Clearly, contestants from a wide variety of clubs partook in the competition and, despite the popular vote leaning towards Mr. Mathletics for his dark and awkward comedy, or Mr. HAVOC for his preemptive oil-rub and sexy Spanish poetics, Mr. Event Staff, Aidan Costello '20 went home with the $100 gift card and honor of being this year's Mr. Hamilton.
When asked about his win on, and prior preparation for Monday evening, Mr. Event Staff said, "In preparation for the competition, I performed my usual ritual of summoning Cthulu. I often do this before a performance as a way to have a slight edge over my opponents. For being on stage, it wasn't too much different than it has been in the past—this time I merely wore a dress. Winning the competition itself shouldn't have been a surprise, but it was since I couldn't remember whether or not I properly mixed the hemlock with pig's blood. I guess Lord Cthulu came through anyway!"
In all seriousness, Costello the man behind Mr. Event Staff, said, "In preparation, I honestly didn't do much other than memorizing the lyrics (which I even messed up) and getting dressed. Being on stage wasn't too different than the past times I've performed, but it was definitely the first time in a dress. However, winning came at a complete surprise to me mostly because of the other great candidates on that stage."
Costello braved the stage in a black dress during the eveningwear section of the evening citing long walks across Martin's Way and "dank memes" as his favorite pastimes. During the talent portion, Costello played the guitar and sang The Black Keys' "Little Black Submarine" and the timeless classic "All Star" by Smash Mouth. Suffice to say, the crowd loved him and sang along to the latter of the two songs. The hosts, Joshua Rothstein '19 and Caroline Kreidberg '17, asked him what his dream date on Hamilton's campus would be, to which he replied, "Diner B and not Bundy."