A&E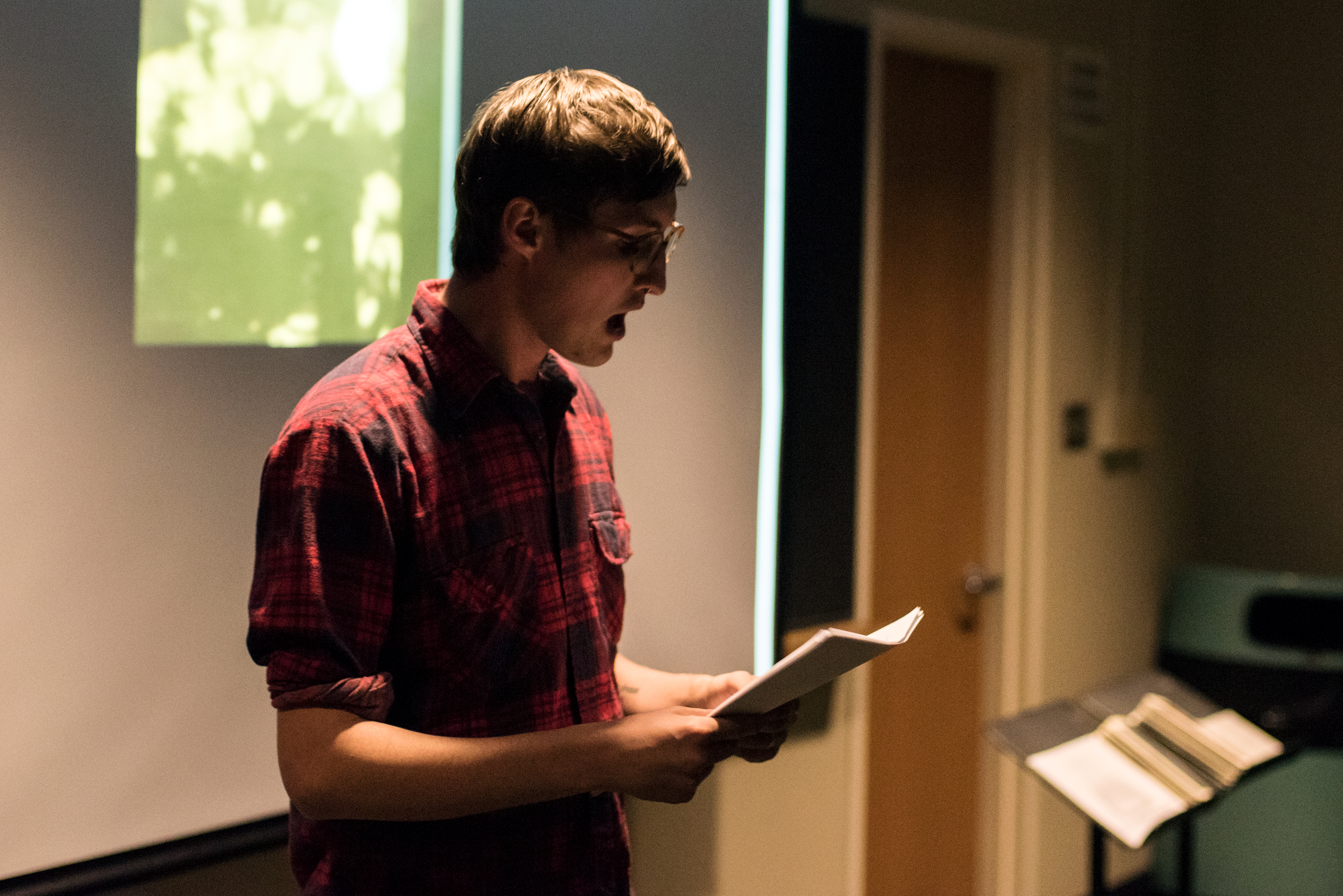 Red Weather hosts Hamilton alumnus Marty Cain '13
By Madeleine Maher '18
April 20, 2017
On Friday, April 14, poet and Hamilton alumnus Martin "Marty" Cain '13 read excerpts from his most recent book-length poem, Kids of the Black Hole, for the Hamilton community. Cain graduated from Hamilton with a B.A. in Interdisciplinary Poetics and went on to receive an M.F.A. in Poetics from the University of Mississippi. He is currently pursuing a PhD in Literature and Language at Cornell University. The event, hosted by Red Weather, took place in Kirner Johnson 005.
Cain's reading made my head spin in all the right directions. After he introduced himself, his easy going disposition vanished, replaced quickly by passionate, explosive free verse. Peppered with contrasting descriptions of pastoral tranquility, violence, bullying, sexual exploration and friendship, Cain's work does not shy away from any aspect of millennial adolescence, no matter how difficult. He explores the painful reality of growing up through a dream lens, playing with the potential, the hollow.
"I'm not really into smooth edges" Cain explained, and this is apparent in the tattered, tarnished world that he creates within his poetry.
The dimly lit, windowless KJ classroom set the ambiance and allowed audience members to get lost in the vortex of nightmarish reality spun in Cain's stanzas.
Cain, too, became lost in the depth and complexity of his verses. He never looked at the audience when he read, but he did not have to; the passion in his performance and the quality of his work was commanding enough.
After he finished his first reading, he abruptly re-embodied the good-natured soul from the beginning of the reading and discussed Hamilton's influence on his book.
"The seeds of what this book came to be grew when I was here," explained Cain after reading his first extended excerpt. He referenced his Senior Fellowship project on pastoral tradition as a catalyst for Kids of the Black Hole's vivid evocations of nature. Every year, students may submit proposals for Senior Fellow projects, and no more than seven juniors are selected by the Dean of Faculty, the Academic Council and the Director of the Senior Fellowship Program to become Senior Fellows. These students are exempt from the traditional Hamilton curriculum and instead explore an independent topic of their choosing.
Cain also shared Kids of the Black Hole's digital supplement, which included images of an art installation that he completed and installed here at Hamilton as a part of his fellowship. The installation, which serendipitously resided in KJ basement as well, was comprised of mounted sheep's wool and projected images of pastoral scenery. The construction of this project inspired another one of his poems, "Say, Did I Ever Tell You I Lived in Arcadia?," which he performed with the same explosive emotion as the first excerpt. The digital supplement also included relevant videos, gifs and texts that do not appear in the print edition of the poem.
Cain rounded out his reading with another excerpt from Kids of the Black Hole and a book sale and signing. Red Weather will continue their visiting artist series on April 20 at 8 p.m. in KJ 005 with "Artporn," a queer multimedia poetry performance by Jacob Brooks and Maya Chun.