A&E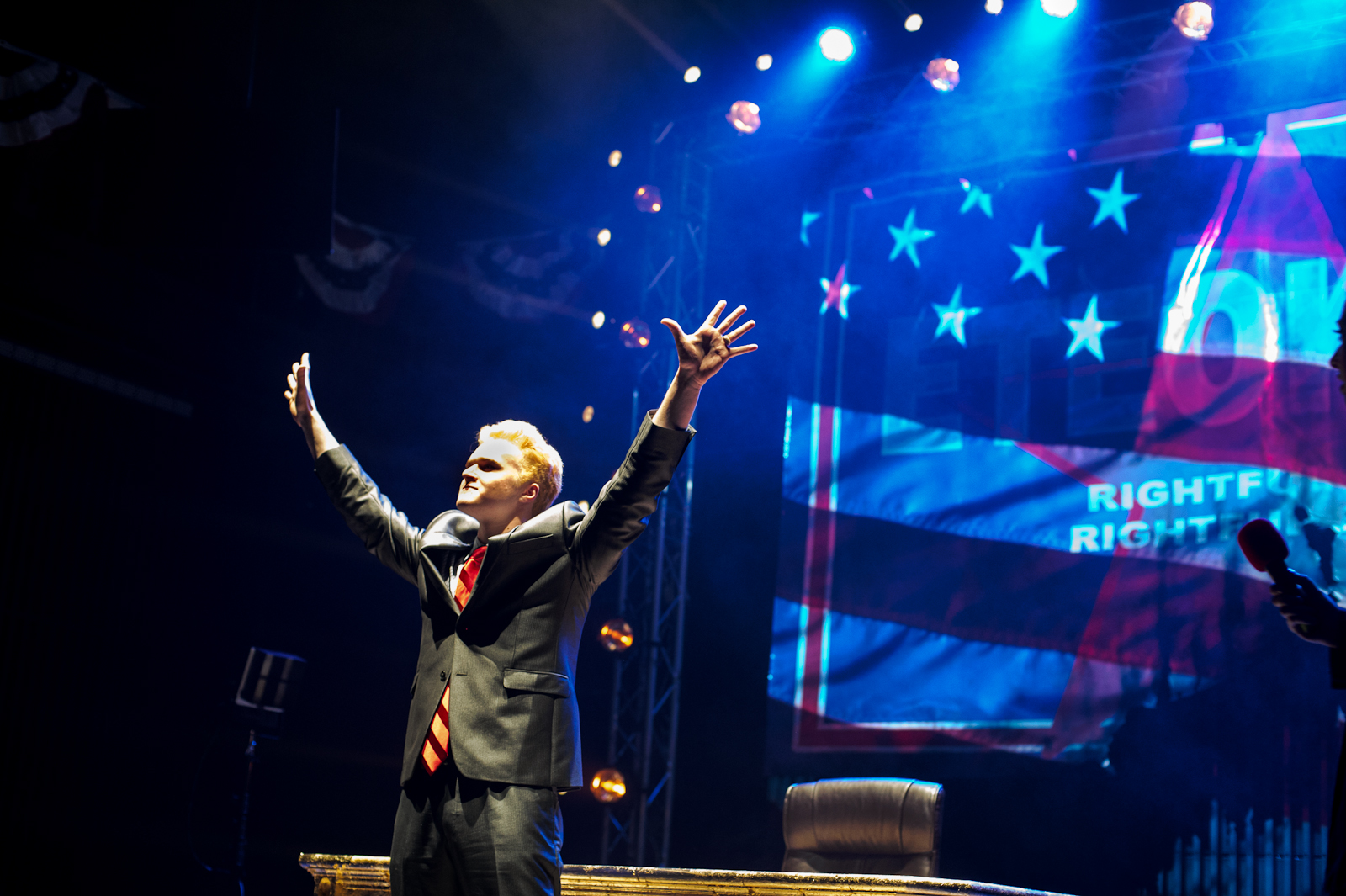 Antigonick makes bold choices, yields great results
By Tina Natson '20
April 20, 2017
Sophocles' Antigone was written around 441 BCE as part of the Oedipus trilogy, and has since been adapted and performed countless times around the world. The story of the rebellious Antigone, a young woman who opposes man's law to obey the laws of the gods, has appealed to audiences since its first performance. Anne Carson's Antigonick is among its adaptations, and on Thursday, April 13, the Hamilton College Theatre Department began its run of a deeply politicized version of Anne Carson's translation.
Director Mark Cryer, with the help of assistant director Timothy Hartel '18, sets the play in modernity; Antigone (Angelique Archer '20) is a young activist who confronts her uncle Kreon (William Benthem de Grave '20), a tyrannical and ruthless king who has forbidden the burial of one of her brothers. Kreon is a not-so-thinly veiled stand-in for Donald Trump, bleach blonde hair and all. Rather than in a Theban royal court, the action of Antigonick predominantly unfolds in the Oval Office. Placing this story in the present was a bold and brilliant move on Cryer's part; in our current political climate, we can understand Antigone's anger and her willingness to do what she feels is right regardless of the cost. We can also understand the complex intersections of moral and written law, and thus sympathize with the dilemma Ismene (Taomi Kenny '20), Antigone's more law-abiding sister, encounters. Sometimes, ancient plays–and even their modern adaptations—can feel very alienating, because it can be difficult to identify with the characters and understand their situations. When Antigonick is placed in 2017, a context which we as an audience can comprehend on a more personal level than ancient Grecian society, it becomes easier to identify the major themes and messages of the work.
Antigonick is also visually stunning. Confetti and protest signs litter the floor for the entirety of the show, a looming reminder of discontent with Kreon's rule; it surrounds him, even in the Oval Office, the seat of his power. A banner for Eteokles, Antigone's now-dead brother and former ruler of Thebes, hangs in tatters before a more pristine–and intimidating–one with Kreon's superimposed face, á la Citizen Kane. There is a sense of overwhelming chaos and order at the same time–this juxtaposition reflects public opinion and serves as a constant reminder of the tension between those in power and the ones they serve.
The use of television screens was also an interesting and intelligent choice. It allowed for the chorus to have several members without crowding the stage and, more importantly, served the chorus's purpose far better, particularly in this adaptation. Since the Greek chorus acts as something of a mediator between the characters and the audience, having both news reporters and talk show personas as the chorus was a perfect analogy. The media is our point of connection to what is happening in the White House, and how news is reported colors how we feel about it. In another smart change, Nick (Jack Martin '19), a silent character, who, in Carson's original script measures objects onstage for the duration of the show, becomes a cameraman. This was a good way for the audience to have an even more intimate glimpse at the actors' expressions and interactions, allowing for more creative blocking; the actors do not need to constantly face the audience if their expressions can be broadcasted.
In addition to production, I was also very impressed by the cast. Angelique Archer '20 (Antigone) was passionate, driven and strong yet soft; she handled Antigone's last monologue beautifully. William Kaback '20 (Haimon) and William Benthem de Grave '20 (Kreon) both gave stand-out performances and demonstrated intense commitment to their roles. They made bold and calculated choices, which successfully manifested into brilliant scenes, especially when they were onstage together. Caitlin McQuade '18 (Eurydike) also gave an intelligent and well-crafted performance; Eurydike only speaks once in Antigonick–the same is true in Sophocles' original play–but it was undoubtedly one of the strongest parts of the show,and lent itself to the more reflective aspects of the play. The chorus members were also commendable. Their parts presented a challenge, with their interrupted speeches and interjections. Nonetheless, they were very energetic, aware and engaging, and did well with interpreting Carson's metaphors and allusions.
Ultimately, Hamilton's production of Antigonick was exceptional. Before you go see it, I would recommend brushing up on the plot of Antigone, since Anne Carson's translation tends to presume knowledge on the audience's part.
Despite the difficulty of the show, Mark Cryer has done a marvelous job adapting this iconic story for the modern era, and his cast executes their roles with skill, clarity and intelligence. Antigonick succeeds aesthetically, intellectually and artistically. A story like Antigone's could not be more important in our current political climate, and this retelling is certainly an important one.