A&E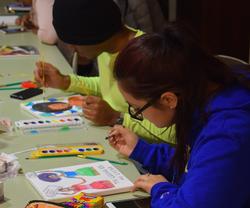 BLSU and FCC honor Black History Month with creative art workshops
By Adrian Summers '19
February 9, 2017
On Tuesday, Feb. 7, Hamilton students walked into the Sadove conference room for the Black and Latinx Student Union's (BLSU) and the Feminists of Color Collective's (FCC) first in a series of two creative art workshops.
Serenaded by throwback hip-hop and R&B music, students found materials ranging from blank canvases, poetry pads, and watercolor kits cen- tered in the room in order to encourage a free and open space. They wasted no time filling their cups with water for painting and rolling up their sleeves as they dove head first into what developed into a stimulating and intense evening.
During this Black History Month, both BLSU and FCC seek to empower stu- dents who identify as black with the tools necessary to express themselves. In light of recent political events, many students have felt powerful and valid emotions, ranging from anger to outright despair.
Through these workshops, both organizations hoped to help these students channel their passions into productive pieces of art that will not only capture their thoughts in their rawest, truest states, but also preserve them for years to come.
Activism is a hot topic on campuses everywhere. Unfortunately, only one narra- tive of activism is dominating the conversation: protests and marches. Not every person is physically able to participate in a march or rally. Not every person can afford to take time offofworkorawayfromtheir families to join sit-ins. Not every student on this campus has the ability to balance their schoolwork, their priority while at Hamilton, and protests.
Students at Tuesday's workshops painted canvases and drew sketches centering around topics such as the call for unity between black and Latinx people, queerness in the black community, and black music as an act of resistance.
Though all of these topics are calling for an active approach to solving societal issues such as ethnic conflicts, homophobia and freedom of speech, these students chose to use art as their channel to communicate their concerns to the campus. Art is often overlooked as a form of activism, but it can be just as effective.
Art is a sustainable, inclusive, and healthy method of activism. After the rallies end and the people go home, the level of passion and emotion present leaves with them. It becomes difficult to continue having conversations afterwards and to keep the momentum up when weekspassandsomepeoplego back to their everyday lives.
Some people with specific health or finance conditions will become over-exhausted or lose money standing or yelling for justice for hours on end.
While physical protest is a very valid and important method of activism, it excludes people who are physically or financially unable to participate.
In addition to including more varieties of people, art is also a form of self-care. Self-care is activism in itself because it allows a person being systemically oppressed to resist the temptation to overwork themselves and prevent any physical participation in the future. Students at the workshop also created art centering around Black beauty and its maintenance, family, and historical successes.
These pieces will help members of the Hamilton community, particularly those who identify as black, remember their greatness and help to uplift them if the long journey to justice has begun to wear them down.
By capturing these mo- ments of raw emotions and publicly displaying them later on in the month during pop-up exhibits, BLSU and FCC hope to reignite the flames that people had at the Women's March, after the recent ex- ecutive orders, and after the election. Even people who did not react strongly or participate in any of those events will be able to interpret these moments of fury, hopelessness, and discouragement and begin to ask questions.
Hopefully, these questions will spark important dialogue on campus and allow people to strategize new ways of coming together and addressing the concerns of our community.