News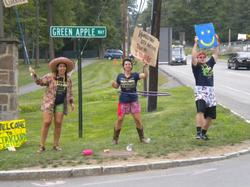 Pre-Orientation programs welcome class of 2016
By Max Newman '16
September 6, 2012
On Aug. 17, about half of the Class of 2016 was greeted on the Hill by screaming and jumping Hamilton students dressed in funky pants and pirate hats. Another year of Adirondack and Outreach Adventure had officially begun.

Adirondack Adventure is headed by Andrew Jillings, the director of Outdoor Leadership at Hamilton. Now in its 29th year, the program, consisting of 26 different eight-day trips, is a pre-orientation option for incoming first-years. Trips include hiking, canoeing, sea kayaking, rock climbing and combination trips.

"The purpose of Adirondack Adventure is to allow incoming students to meet their peers and create friendships through shared experiences in the outdoors," said one of the Assistant Directors of the 2012 program, Will Robertson '14.

While first-year students are excited by the prospect of exploring the surroundings of their new home, most participants believe the trips offer something even greater in value: the chance to make new friends in an unorthodox setting.
Each group spent the first two days on campus, learning the keys to camping and packing up gear. The groups then left in fashion as "Call Me Maybe" was blasting in the van down the Hill. After spending three nights with their groups, students then met up at campsites with a few other groups to meet even more people.

Amelia Heller '16 said of the high ropes course, "I met even more first years, and we bonded through our communal fear and excitement of heights and obstacles." Groups ended the trip with s'mores and campfire songs.

Adirondack Adventure also offers a unique opportunity to learn more about the openness at Hamilton. "I think that the most valuable part of AA is the welcoming atmosphere it creates. Adirondack Adventure shows students that there are many more facets to Hamilton than just the people in their dorm or the people on their sports team," Robertson said.
Students are placed in nature and are not allowed to have their cell phones during the trip. As a result, students are able to follow Jillings' motto "be here now," forgetting about the outside world and bonding with classmates in a stress-free environment.

Jillings says the best part about Adirondack Adventure for him is when the students return. "I ask them how it went," said Jillings. "People seem genuinely happy and excited to begin the semester with some solid friends."

The sister pre-orientation program for less outdoorsy students who prefer working in the community is Outreach Adventure, led by Amy James, director of Outreach and Orientation at Hamilton. Students are bussed into the surrounding communities of Utica and Rome to work with non-profit organizations.

A parallel bonding experience occurs as students form strong relationships for the eight-day period. Not only are the students familiarized with their surrounding community before school even begins, but they also form close relationships.
Heller said, "I bonded with the other freshmen on my trip and my group leaders, who we all affectionately called Mom and Dad. Participating in OA provided me with the opportunity to begin my first year at Hamilton with a close group of friends."
The two programs represent what Hamilton College is all about. Jillings commented on the success of the program. "This was out biggest year, with 238 participants. Together with OA, that makes up 54 percent of the incoming class. When I started in 1997, AA was half that size, and it's been growing just about every year," said Jillings.

The growth of the program shows how effective the trips are for first year students. Many of the participants in the program end up becoming trip leaders during their time at Hamilton. "The program is constantly growing, meaning more leaders are being hired, and more gear is being ordered," Robertson said.