New bookstore options help students save big
NOOKstudy, rental textbooks reduce book receipts
by Jordyn Taylor '12
NEWS CONTRIBUTOR
The excitement of starting a new semester at Hamilton is always tempered by students' crushing realizations that yet another small fortune has to be spent on textbooks. Even if one opts for purchasing used books from the Hamilton College bookstore, a semester's worth of reading materials can cost upwards of $500. This year, in an attempt to relieve students of this dreadful financial burden, the bookstore has instituted two new book-buying options: textbook rentals and NOOKstudy.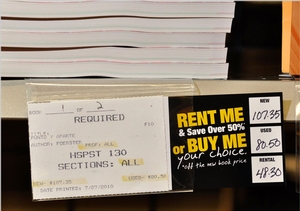 With the textbook rental program, students pay to rent books for the duration of the semester and return them to the bookstore after the end of finals period. According to Manger of the College Bookstore, Jennifer Phillips, the rental program has been incredibly popular since it started last semester, and the number of students renting textbooks is still expected to grow. The financial benefits are undeniable; according to the bookstore's Facebook page: "renting textbooks saves you more than 50 percent over the cost of purchasing a new, printed textbook."

Though the rental program is appealing, it has one problem: not all textbooks are available as rentals. Unfortunately, it is generally the more expensive textbooks that are excluded from the rental program. Students are able to save money on the cheaper textbooks on their lists, but getting one's hands on a heavy-duty hardcover still requires paying full price— which in some cases is over $200 for a single book.

NOOKstudy, Barnes and Noble's answer to Amazon's Kindle, is another new way to make the textbook-buying experience more cost-effective and efficient. NOOKstudy is a computer program that allows students to purchase and download digital textbooks directly to a personal computer. E-textbooks boast several benefits over physical books. They are up to 60 percent cheaper than real textbooks, according to www.barnesandnoble.com. They are also less cumbersome and come un-marred by the notations and highlights of previous owners.

"Benefits [of e-textbooks] are numerous, [such as] highlighting, tagging, linking parts of the book to websites for future reference, dropping PDF's of class notes into your 'library', exporting your notes to a word document in an organized manner and so many more great things coming next semester," said Phillips.

Students seem to be equally enthusiastic. E-textbook fan Zach Harbage '11 said, "In a digital textbook, you can search for terms electronically instead of having to find them in a real textbook. Plus you don't have to carry around heavy books; they're all on your laptop." Harbage also said that he saved money buying e-textbooks instead of real books from the bookstore.

Phillips will be available in the bookstore every Wednesday between noon and 1 p.m. to talk to anyone who wants to learn about NOOKstudy— even if it's just for five minutes.

"I truly believe we can all learn from each other in regards to digital and I am excited to learn, as well as help anyone along their way," she said. As more students take advantage of these new book-buying alternatives, textbooks may no longer put a damper on the Hamilton experience.