Weber's triteness disappoints,
Thomas feels out of place at coffeehouse
by Taylor Coe '13
ARTS & ENTERTAINMENT EDITOR
April 1, 2011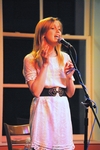 Rosie Thomas's Acoustic Coffeehouse performance on Thursday, March 31 is neatly reflected in James Monger's AllMusic review of her album If Songs Could Be Held, who shrewdly notes that Thomas's music "wouldn't sound out of place spilling from the ceiling of an extremely popular coffeehouse chain." Not that this is necessarily negative; her music is smart and sweet, but, as unkindly as it may sound, it could serve mostly as window decoration.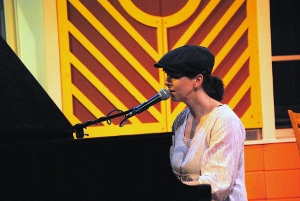 Preceding Thomas was fledgling singer-songwriter Grace Weber, backed by her co-writer and pianist Julian Pollack. Awkward and unsure of what to do with her hands, Weber accompanied her trite lyrics with equally trite hand gestures—tossing a hand to the ceiling as she belted out a cliché about the moon. Weber's smooth voice carried the load of the performance—but even her voice and Pollack's expressive piano arrangements could not overcome the shameful quality of the lyrics.
Thomas saved her set only through her inimical sense of humor—gushing about various parts of her life between her songs. If only that humor had penetrated the willfully melancholy tone of her songs…maybe then the concert could have been saved from a sense of a Starbucks snoozefest.