Sports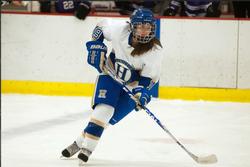 Women's ice hockey brings the heat this winter
By Phoebe Greenwald '16
December 6, 2012
Women's ice hockey racked up its fifth win this past Tuesday, defeating SUNY Potsdam 4-2. With Katie Zimmerman '13 scoring three goals and Nicole Haskins '14 netting an additional point, the team squeezed past the Bears in the second period. The match was tied 1-1 for the majority of the first and second period until Zimmerman netted a second goal, which changed the momentum of the game. The third period featured two goals: Haskins for the first and Zimmerman for the final point.
Assistant Coach Erin Normore commented, "I thought we worked well as a team. We put a lot of chances on the net, and we put a lot of pressure on them. It was a good step heading into our last game before break." A lot of chances indeed—the Continentals outshot the Bears 44-10.
"Coming into tonight, we hadn't played Potsdam in two years and didn't know exactly what to expect. From early on, it was clear that we were the better team and we tried to keep the puck in their zone as much as possible," explained Zimmerman. Zimmerman also credits Ianthe "Ice" Lekometros '16 with "an amazing game. [She] generated a lot of good scoring chances."
The Continental's win against SUNY Potsdam only contributed to a recent trend. With five wins and only two losses, women's ice hockey has enjoyed a strong start to the season. Led by five returning seniors and new head coach Emily McNamara, the team currently posts a 2-2 NESCAC record, which includes an in-conference win against Amherst. In a weekend double-header, Amherst (nationally ranked as No. 6) defeated Hamilton 6-5. The Continentals finally bested the Jeffs 4-3 in sudden-victory overtime a day later. Zimmerman scored the game-winning goal with one minute and seven seconds remaining. Hamilton had not beaten Amherst in 16 consecutive games.
In regard to the Amherst game, Zimmerman explained that "the Amherst win was among the most exciting games of my hockey career. We'd played some tight games with Amherst in past years, but we hadn't beaten them since 2005." Zimmerman contends that "we're a team that's capable of upsetting top ten teams and the Amherst game was a good example of our determination and perseverance."
"It was a good win for us," agreed Coach McNamara, who went on to address the previous 5-6 loss against Amherst: "I thought that our comeback that night, even though we lost, was great—it's good that we never quit."
Emily Rubinstein '16 also commented, "the season has been really good because we are really cohesive [and] the team has a lot of heart."
Like the Continentals, McNamara tends to coach (and play) ice hockey with heart. She graduated from Middlebury in 2007. During her time with the Panthers, she was named to the All-NESCAC team twice. She was a part of the most successful class in Middlebury Hockey's history, boasting three NCAA Championships in addition to two NESCAC Championship teams. McNamara was appointed captain her senior year. She returned after graduation to work as assistant coach, where she served for four years before leaving to pursue a master's degree. She now returns to coaching with intentions to bolster Hamilton's program and perhaps make an appearance at playoffs.
Regardless, McNamara's first year here has been successful thus far. The team played in a double-header this past weekend, defeating Connecticut College 3-0 as well as losing 0-1 to the Camels a day later. The loss put an end to a four-game winning streak of the team. The outcome largely attributed to Kelsie Fralick '15, who made a total of 50 saves for the Camels. By the end of the match, Hamilton had outshot the Camels 50-22. The previous day, Hamilton's Becca Hazlett '13 saved 25 shots, making the game her first shutout of the season and securing the Continental's win. Abby Runyon '13 and Zimmerman scored alongside Hannah Bartlett '16, who made her first collegiate career goal.
Zimmerman, who was selected for the NESCAC all-conference second team last season, observes that "Connecticut College games are always… nitty-gritty. Conn is a bit of a rival for us, so any time we can come away with a win against them is huge."
The team's record bodes well for the rest of the season. And when all else fails, the Continentals are a tenacious bunch. "We're a third period team," observed Rubinstein '16. "We always do best in the third period."
Women's Ice Hockey plays away this Saturday at Utica College, hoping to bring home another win. The team goes into 2013 with an undefeated home record of 3-0. As Zimmerman says, "RAGE IN SAGE!"