Sports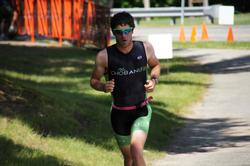 Swim, Bike, Run: The Wright Way
By Alex Orlov '13
October 25, 2012
Swim, bike, run, repeat. Most athletes stick to one endurance sport, but Hamilton's own Stephen Wright '13 does all aforementioned three. Since his first triathlon at age 12, Wright has continued to pursue his passion for triathlon competitions.
"I like the challenge of mastering three sports," he said, adding that some people make fun of triathletes for being "mediocre" at three sports in lieu of excelling at just one. But really, would the mediocre or faint of heart be able to finish a standard triathlon that includes a one-mile swim, 25-mile bike ride, and a six-mile run?
Since the swim is usually the first leg of the race, it is imperative to fall into a fast pack of competitors during the bike if the triathlon is draft-legal, meaning that a close group of cyclists can reduce drag by aligning with a leader.
When racing at draft-legal Junior Nationals at 19, Wright was around the 50th competitor to get out of the water, but then cycled hard and was third off of his bike going into the run. He finished 15th overall.
Wright concedes that his weakness has always been the swimming leg of the triathlon, but his exceptional cycling gives him a competitive advantage over opponents. At non-draft Nationals of the same year, Wright placed third.
In the fall of his sophomore year, he stopped training and struggled to get motivated. "I'm either training super hard or doing absolutely nothing," said Wright. After taking a few months off, he began taking his training more seriously in December of 2011. To pursue his racing goals, he regularly woke up at 5 a.m. to ride for three hours before class and began consciously eating healthfully. The only sweet that didn't get cut out was ice cream, which Wright confessed he ate every night this summer except before races.
It was not until last June that Wright found the competitive rhythm that he used to have. He won the elite men's title at the Marlborough Triathlon and eagerly anticipated the Cohasset Triathlon, which, according to Wright, "would confirm where I was at relative to my competition."
Despite stepping on a rock while running into the water for the swim, he placed second and was beat out by a pro triathlete. Wright's injury put him in a walking book for three weeks and effectively shortened his summer season. Nevertheless, he came back with a strong showing at Nationals, where he moved to fourth by the end of the bike and hung on for eighth during the run.
All this was made possible in part by Wright's triathlon team called Off The Front Multisport. Last year, Wright founded the team and reached out to sponsors for funding. Chobani greek-style yogurt, Rudy Project eye wear and Endurance Shield sunscreen all serve as sponsors. Wright's relationship with Chobani began in an unusual way: the company featured him in a national TV advertisement after he posted a picture to Facebook of himself during an 80-mile roundtrip bike ride to the Chobani factory in New Berlin, NY.
Wright wanted to launch Off The Front Multisport so that collegiate athletes could compete at highly competitive triathlons while simultaneously pursing educations or professional careers. The team is comprised of a dozen athletes who are a mix of pro and elite amateur triathletes from Dartmouth College, Williams College, Middlebury College and Colorado College, among other schools. The athletes' career interests are varied; two are teachers and one is a Ph.D. candidate in chemical engineering.
"At the end of the day, the paycheck isn't what they are racing for," said Wright, when explaining the difference between his teammates and the very few pro triathletes who make a living from the sport. He notes that other triathletes have even reached out to him for tips on how to organize teams.
For now, Wright's personal goals include improving his swimming and earning his pro card by placing in the top three at a pro-qualifying event this season. He joined the Hamilton swim team this season and looks forward to competing in distance freestyle. "It'll suck when I'm getting destroyed at meets, but as long as I remember my end goal, I'll be okay" said Wright with a smile.
After graduating with a bachelor's degree in biology, he hopes to work in a research lab while focusing on triathlon training for 2014. Wright anticipates that he will stop competing when he eventually enters medical school—a whole different test of endurance.