Sports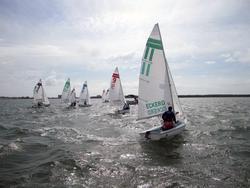 Offbeat Athletes: Hamilton Sailing
By Alexandra Orlov '13, Sports Columnist
October 20, 2011
Sail fast, live slow? Not for the skippers and captains on Hamilton's Sailing Team, who prefer the motto "play hard, sail fast". This semester, twelve men and nine women of varied skill level have competed in five regattas located in New York.
The team's goal, according to captain Jack McManus '13, is "to show everybody a good time on the water and hopefully beat Colgate in the process." Around five or six Hamilton sailors travel to each regatta, and teammates sail in borrowed boats designed for two people.
At the New York Maritime Open on Sept. 17-18, Hamilton placed 12th out of 18 teams. To the team's delight, Colgate placed 18th. At the Hobart William Smith Fall Intersectional on October 8-10, Hamilton placed 16th out of 18 teams.
Contrary to popular belief, sailing isn't all about boat shoes, preppy clothes and getting a tan. Captain Will McIvor '12 said that apart from competing with other schools, the team must often compete against Mother Nature herself. Treacherous and physically taxing weather conditions test the will of Hamilton's best sailors.
"Our preparation consists mostly of premature victory celebrations," said McManus, noting that Hamilton's performances have been respectable considering lack of practice facilities and bodies of water suitable for sailing in Clinton. According to members, performance has improved in the last few years as sailors have let go of a "play hard, don't care" attitude and now strive to "play hard and sail fast."
While some students are seasoned sailors who sailed competitively in high school, others had not previously boarded a boat before joining the team. More experienced sailors help newcomers feel comfortable and also enjoy sharing nautical culture and tradition.
"We're proud to be Hamilton's most swashbuckling student organization," said McManus, "and we take that responsibility very seriously." McManus admitted that some of his favorite Sailing Team memories are not of moments out on the water but of on-land bonding with his fellow teammates.
At regattas and on campus, the team enjoys swapping sailing stories and sharing their love for the sea and those who inhabit it, such as "the mighty Kraken, the majestic Black Seal and the legendary Sailor Jerry," said McManus.
Both McManus and McIvor readily declared that the team, like any bunch of sailors worth their salt, is adept at "overcoming the most vicious of hangovers in the name of competition."
"We claim victory as the best spirited, most hungover, most creative, most optimistic and most unprepared team at pretty much every single race we attend," said McManus. Additionally, the team views beating out at least one other boat per race as winning. With this logic, the Sailing Team has "won" during every race this semester.
There's no denying this bunch of sailors fully embraces a glass, or beer stein, half full mentality.