Sports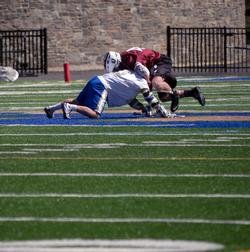 Leanos '12 helps will men's lacrosse over Williams
By Steve LaRochelle '14 Sports Staff Writer
April 19, 2012
Out of the 43 shots the Hamilton men's lacrosse team took under the lights at Williams College on Tuesday night, there's only one that everyone is talking about.
Coming out of a timeout in the waning moments of a third sudden-victory overtime, team captain Jon Leanos '12 ripped an unassisted goal from the top of the crease to lift the Continentals to a crucial conference victory, clinching them a spot in their first-ever NESCAC quarterfinal. Leanos, an All-Liberty League performer as a junior last season, climbed to second in the NESCAC in points (39) with his stellar performance on Tuesday.
Leanos will look to continue his hot scoring streak as the Continentals enter another pivotal conference matchup this weekend when the second place Trinity College Bantams (6-2 NESCAC) come to town. Although winning the regular season title is officially out of the question for Hamilton, they can improve their seed in the NESCAC Championship with a win on Saturday. If the season ended today, they would finish in eighth place and draw the first place Tufts Jumbos (7-1 NESCAC) in the opening round of the tournament.
The Jumbos handled the Continentals 15-8 in the season opener back on March 10, but if recent results are suggestive of any sort of trend, Hamilton no longer bears any resemblance to who they were before spring break.
"In the first couple games, we put a lot of pressure on ourselves to make a statement [in the conference] right away," Leanos told Lacrosse Magazine in a recent interview:
"Looking back, that kind of hurt us. We confused playing with enthusiasm with playing smart, because we were playing stupid and undisciplined. We were taking quick shots. We were flustered."
Since they got on the board with their first NESCAC win against Middlebury, it has been Hamilton's opponents that have been flustered. Coach Barnard, however, wants to make sure that the team stays humble about its recent success as they approach the final push of the 2012 campaign.
"We have a lot left to prove. We haven't earned anything yet," Barnard told Lacrosse Magazine. "The fact that we're staying under the radar is perfect for us. We like the underdog role, and we like surprising teams. It's our first year in the NESCAC, and we're just trying to keep our head down and stay quiet."
If they beat Trinity in Saturday's game and head into the NESCAC tournament having won seven out of eight, however, the Continentals may have a hard time staying under the radar. If they haven't already, people in the Division III lacrosse world are going to start taking notice. This team may just be for real.