Sports
Crew teams warm up for season in Tampa
By Alex Orlov '13
April 4, 2013
After hibernating in the erg room this winter, the Hamilton men's and women's crew teams had the opportunity to get out on the water during a spring break training trip to Tampa.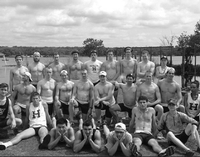 Despite an early morning downpour on Saturday, March 23, Hamilton traveled to Stetson University in Deland, FL for a day of scrimmage racing in good conditions. The Hamilton women started the season strong, easily winning all of their races except the Varsity 4 race, during which Caroline Walton '15 had an equipment malfunction. The foot stretcher, which is where a rower pushes off from when taking a stroke, broke early in the race and prevented Walton from effectively propelling the boat. Only seven seconds behind first-place Tufts, Hamilton still beat Stetson by 23 seconds.
Since Stetson pulled out of the men's fours race, the Hamilton men only raced a novice 8, which beat Stetson's crew handily. Captain Dylan Jackson '13 noted that the men's team, while on the younger side, has a lot of raw power this year.
"A good amount of time in Tampa and going forward is geared towards getting us to utilize that efficiently," Jackson said. With morning and afternoon practices each day, the men had ample opportunity to hone their technique and build strength.
Striving to make the NCAA championship this season, the women's team hopes to build on the success of the past two seasons, in which they finished the season ranked in the top ten nationally. The women's team is also unusually young this season, as they have only four seniors and one junior on the roster. A large majority of the team is made up of sophomores.
"It is definitely a different feel to the team, but the drive to succeed is high no matter how old we are," said women's captain Kelsey Burke '13. "Everyone is committed to make the team faster."
This year, the Continentals contributed to a blog published on the college news site. Some excerpts:
"Today was also the first time I could actually feel the burns that I got yesterday, so I really appreciate the guy who discovered aloe."–Andrew Szatkowski '15, March 18
"Today we woke up to a beautiful Tampa sunrise over the water." – Grace Bowers '15, March 19
"Now that we are four days into training, there is a noticeable camaraderie forming within the team."–Jared Lippman '16, March 20
See the men's and women's teams in action on their home course, the Erie Canal, on April 13 and 20. They will face their geographical rivals, the University of Rochester, St. Lawrence and Hobart and William Smith.