Sports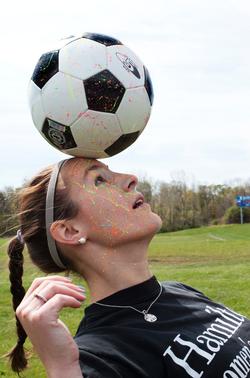 Alex Rimmer '13 breaks all-time scoring record
By Caitlin O'Connor '14
November 8, 2012
With two dribbles and a well-placed shot, senior Alex Rimmer broke women's soccer's all-time scoring record, with 37 goals in total over the past four seasons.
"I'm pretty unemotional on the field," said Rimmer, although she admitted to an exception when she broke the scoring record, bursting into tears. Besides that instance, she explained, "I try and stay level-headed—things don't really frustrate me."
Rimmer's soccer career began at age three, inspired by her dad's love for the game. Born in the United Kingdom, Rimmer watched her father played semi-professional league on the side before the family moved to the United States as her father followed his career path. As a young girl, Rimmer said her biggest idol was Mia Hamm, and that she even wanted to go to University of North Carolina-Chapel Hill to follow in her footsteps.
In fact, Hamilton was nowhere near the top of Rimmer's prospects. She admits to having deleted the email from Coach Colette Gilligan and only replied when a close friend expressed her interest in the school. The ride up to Clinton for her first visit was equally indirect; Rimmer and her family got lost in the Adironacks, turning what would have been a four hour drive from Rye, New York into an eight hour odyssey.
But, despite the long journey, not seeing the team play and missing her interview, Rimmer felt at home on the Hill. After visiting Wesleyan several weeks earlier, she assumed college would just be an uncomfortable, awkward place.
However, her opinions were shattered after her visit, remarking that she has never felt more welcome than with her overnight stay with a member of the women's soccer team.
The only thing that might outweigh Rimmer's love for Hamilton is her love for the sport that has greatest occupied her time on the Hill.
"Soccer is my passion," she said. "Whenever I got out there, it's stress free and something I love to do."
When asked how central breaking the record was to her college career, Rimmer remained humble. "I didn't really start thinking about the record until my senior fall, and there is no way I'd have been able to accomplish such a feat without the overwhelming support of the team," she said. "They fed me the ball whenever they could and were cheering me on until the final minute."
Despite the honor of breaking the all-time scoring record, Rimmer claims her favorite memory on the Hill remains a hat trick her sophomore year at home, coming from being one down to winning the game. In addition, it was the one and only time her grandfather visited the Hill to watch her play.
What most people don't know about Rimmer is she's extremely superstitious, a leftover habit from her high school coach. Her superstitious routines include always having a Gatorade Prime before every game and putting her socks on left then right, which she then repeated for the second pair as well as her cleats. Speaking of shoes, Rimmer admitted one of her biggest guilty pleasures: "Cleats. None of my cleats are under $200 and I buy a new pair every year, no matter what. If I'm not playing well, I change my cleats," she added.
Off the field, Rimmer fills her time with her senior art thesis. When she arrived at Hamilton, Rimmer never expected she'd become an art major, but admitted it "was always something I was really good at and enjoyed doing."
Since declaring as an art major, Rimmer has realized the strong connection between the form in art and her future career aspiration, physical therapy. With this in mind, her senior thesis revolves around anatomical muscle drawings in sharpie on her body, displaying both the stability they provide in everyday tasks and the strain they undergo from sports.
My career playing soccer, although it's done here, is definitely not finished," said Rimmer. Her summer league, which is no casual affair, practices biweekly and competes against teams with national professional players every weekend."
"A girl on my summer team is thirty-four," said Rimmer, "and I plan on lasting way longer."