Opinion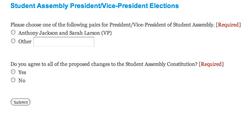 Uncontested Student Assembly president election shows student apathy
By Rachel Lieb '13
December 6, 2012
The beginning of this semester saw some of the most exciting political activity at Hamilton over my past four years here. Crowds packed into the Sadove living room to watch the presidential debates and election results pour in. The Hamilton Democrats and Republicans verbally dueled during their own debate and sponsored a number of events to encourage enthusiasm about the election. Now, less than one month after the election, students seem to have lost that fervor entirely.
Student Assembly is currently holding elections for president and vice president for the entire school. Anthony Jackson '15 and Sarah Larson '15 are running, for president and vice president, respectively, unopposed. While I'm sure that these two candidates are qualified for the job, the apathy towards Student Assembly is astounding.
Current Student Assembly President, Rachel Bristol '13, said, "I think it is a shame that this year's Student Assembly election is not contested. I know that the candidates will do a great job in their roles as Student Assembly President and Vice President next year, but contested elections are good for everyone."
Students had from Nov. 10 through Nov. 27 to decide to run, receive 75 signatures from Hamilton students and put together a 200-word platform. Anyone from any class year can run so long as they have a running mate and have attended at least eight Student Assembly meetings. These qualifications do not seem so difficult to achieve. Government is one of the most popular concentrations on campus, which should imply that students care about their own student government and want to participate in it. However, the unopposed Student Assembly presidential election reveals an incredible amount of apathy on this campus.
"Last year I wasn't expecting any competition in the SA election and was disappointed, at first, when I found out other people were running," Bristol continued. "Looking back on it, the competition challenged me and my running mates in a way that made us evolve our platform and views on campus issues."
The saddest part of the unopposed election is that students from every corner of campus have truly excellent ideas about how to improve Hamilton, but they are either too lazy or too frightened to speak up. There is so much potential to accomplish great things on this campus through Student Assembly that most students do not take advantage of during their time at Hamilton.
The Student Assembly president and vice president meet regularly with President Joan Hinde Stewart and Dean of Students Nancy Thompson to represent the voice of the students. Without forcing candidates to defend their platforms and explain their goals, the larger student body cannot complain when a Student Assembly or administrative decision does not agree with their own beliefs.
"In the effort to win, I reached out to many students who engaged me in meaningful conversations about change they want to see on campus," Bristol added. "Without pressure to win votes, these conversations probably will not occur and the campus will continue to feel disconnected from the Hamilton College governing body."
Though it is too late for a contentious election this time around, students should start thinking now about the change they want to see on campus and how they can go about creating it. Students should demand nothing less than the best possible representation in Student Assembly. In order to achieve that, some competition is necessary.
"Let's be honest," Bristol concluded, "it's also way more fun to win when you have to fight for it!"