Opinion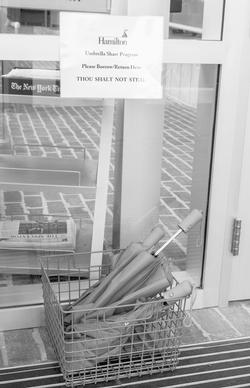 A dry campus: totally umbrel-ievable?
By Phoebe Greenwald '16
November 8, 2012
Ever since high school, I have been inclined to believe that even the best of people are thieves. Not that I suspected my friends would steal important things—cars, laptops, cell phones—those were off-limits. But a warm cookie or a mechanical pencil with a nice eraser were easily sequestered and hardly worth bickering over. At 17 years old, one of my closest friends stole not one, not two, but 11 communal umbrellas from the local mall.
Suffice to say, I've always been skeptical of community programs that rely on honesty and restraint. As far as I can tell, any program that hinges on a society's maturity level is bound to fail. The majority of us harbor a selfish and rather conniving dark side; and while it remains dormant most of the time we are all subject to the occasional lapse in judgment.
The Hamilton umbrella share program is no exception. For those of you who have somehow missed the bright blue umbrellas around school, the umbrella share program supplies umbrellas throughout high-traffic areas. Red bins are placed strategically around campus, to ease the borrow-return process. An email announcing this new genre of "dry campus" last week addressed the possibility of umbrella-share abuse, stating, "As tempting as it may be, please do NOT steal the umbrellas."
Call me crazy, but the request only made the prospect of umbrella-theft all the more tempting. Not to say that the idea isn't a good one—it is. I myself have enjoyed the cover of communal umbrellas since the program's release.
Practical and abundant, the umbrellas were first proposed in the Student Interest Committee meeting last month. The project was spearheaded by Nile Berry '14. Berry speaks for many of us when he observed that, "Basically we realized the fundamental problem regarding umbrellas is that no one likes carrying them, and no one ever has one [when] they need it. Additionally, who likes carrying a wet umbrella?"
Thus, the umbrella share program was born. The program seemed to solve all the major issues associated with umbrellas—eliminating the need to haul a dripping umbrella from class to class, as well as ensuring that when you need one, it would be there—that is, until someone decides to steal them all.
Berry allows that, "this campus does have a vandalism problem. And while I do hope that the umbrella program will never make it into one of Nancy Thompson's weekend damage reports, it remains a real possibility."
Indeed, if a student was so ambitious as to steal all the ice cream from McEwen, it seems only logical to assume that the umbrella program faces a perilous future. Remembering the fate of golden bicycles, an unnamed faculty member predicts that there will be no umbrellas in three weeks.
Student Assembly has taken some steps to decrease theft. Berry insists that the umbrella design is pivotal; especially the color. Ideally, the umbrellas would stand out and wouldn't be particularly appealing.
Similarly, 'Student Assembly' is printed on each umbrella. Clearly, stealing a bright blue, monogrammed umbrella for personal use would be silly.
However, Hamilton students are hardly disposed to steal umbrellas simply out of need. Realistically, these umbrellas would be trashed and stolen regardless of their color—whether they be barf green or hot pink hardly has any effect on the apathy of students.
Ultimately, the program's success relies on two factors: the extent and frequency of vandalism and whether or not the umbrellas are widely appreciated throughout the student body.
The latter element shows promise. Students generally approve of the umbrella share program—at least in concept—and hope that it succeeds. As for the former, it may be too soon to tell. Not even a week after the program's release, I have personally witnessed the destruction of eight umbrellas, which perhaps speaks to a bleak future.
Vandalism is only one of many problems. Other umbrellas may simply be displaced or thrown aside between classes, tossed carelessly into bushes. Perhaps an umbrella or two will mildew at the bottom of bags, behind dressers and under desks.
No matter, eventually umbrellas will have to be replaced, due to general wear and tear or otherwise. The school expects this, as does Berry. But he believes that ultimately the umbrella share program relies on trust and respect, something he thinks exists at Hamilton. And I agree—Hamilton students are certainly capable of treating umbrellas with respect. Whether or not we will is another issue. I will hope for the best, and in the meantime, I'll keep an eye out for Nancy Thompson's next report: "Umbrellas, Mad Dog and the Jitney."