Opinion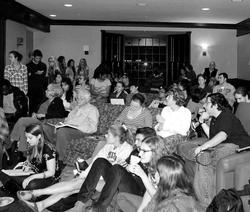 2012 candidates are just two sides of the same coin
By Jeremy Adelman '13
October 4, 2012
Yet another election cycle, and I have seen yet another litany of stories lamenting the political indifference of Americans in general and the youth in particular. I cannot say I disagree as to the dearth of enthusiasm on Hamilton's campus for either candidate. Nonetheless I get the sense that everyone politically abreast is rooting for one man or the other, in the same way that everyone following baseball is rooting for some team or another come playoff time.
The fact that there is no enthusiasm is actually somewhat of a relief; enthusiasm in both politics and sports leads to violence and civil unrest. Just ask any Communist, football hooligan or Hippodrome groundling. Furthermore, there is in essence no reason for enthusiasm, as the differences between the two political parties are roughly as substantive as the difference between Johnny Damon as a Red Sox and Johnny Damon as a Yankee; the uniform is different, and the hair is different, but underneath he's the same player who still couldn't even throw out my grandmother if she tried to score from second on a base hit.
The 2012 election is at heart a choice between two factions who differ on little more than rhetoric; indeed, considering the daily diatribes bemoaning the dearth of 'bipartisanship' amongst our elected representatives, it is remarkable how little daylight separates the elephants from the donkeys.
Both parties favor free trade and energy independence whilst opposing cuts in middle class entitlements; indeed, both parties have run 'mediscare' ads in the past calendar year. On foreign policy, the methods Bush and Obama employed in conducting the war on terror are nearly identical; on domestic policy, both presidents wielded Keynesian stimulus packages to deal with economic downturns, and both controversially expanded federal medical benefits. In the ever-divisive question of taxes, the parties agree on the rates for 98% of Americans, and differ by 4% on the remaining 2%.
There are differences, of course (abortion remains the clearest cut), but even on issues of former disagreement, the parties have grown closer together in recent years. Education reform via charter schools and teacher accountability is now championed by many Democrats, while many Republicans now favor immigration reform and same-sex marriage.
Because the parties differ so minutely, perhaps this election was destined to dissolve into trivialities—the current morass of distortions, character assassinations and kitchen-sink negativity. But the deeper problem is that each side fails to recognize just how similar to themselves their opponents really are, and thus both factions harbor erroneous suspicions as to the motives and intention of their 'enemies.'
Thanks to this caricature, Republicans seriously believe that Obama's reelection will transform America into a hybrid of contemporary Greece and the society in Brave New World, whilst Democrats simultaneously fear a Romney-led objectivist dystopia and a Romney-led Christian theocracy. In truth, even on the few issues of disagreement, there exists sufficient inertia to stymie any attempt at radical, immediate change; even in the event of a Romney landslide, Row v. Wade will remain the law of the land at least through next election cycle.
What America has arrayed before them in 2012 is the choice between two highly intelligent, well-educated, successful, and (as much as we hate to admit about the one we oppose) relatively moderate men, both as qualified for the high office of the presidency as one can possibly ever be. One's choice therefore boils down to minutia or simple tradition, in the 'I'm a Democrat so I vote Democrat' sense.
In this way, rooting for a candidate is close akin to rooting for a sports team, and I'll admit that that's the way I myself view this election. I'm a Republican, and I'm rooting for Romney and a GOP takeover of the Senate in November the same way I'm rooting for the Washington Nationals to win the World Series in October. For both events, the thrill is in victory, not necessarily in its consequences, since there are no consequences; come next February, when pitchers and catchers report for spring training and the political commentators move on to discussing the 2014 midterms, it's a new season.
Of course, the newly-inaugurated President will be able to chart the course of this nation. But in a sense, the ship is on autopilot. Smart men on both sides of the aisle tend to reach the same conclusions given the same set of facts, and this general moderate consensus means the difference between a second Obama administration and a first Romney one is more style than substance. Call me apathetic, but in the choice between a Romney victory and a Washington World Series crown, I think I'd have to go with the Nationals. And if Romney's win means the damn Yankees win again, forget about it.