News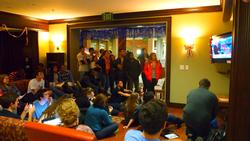 Waiting for America's choice
By Kaitlin McCabe '16
November 8, 2012
"For the United States of America, the best is yet to come." These triumphant words of optimism delivered by President Barack Obama on the night of Tuesday, Nov. 6th struck a chord with the people of the United States of America. Having garnered 50 percent of the popular vote, President Obama was re-elected for another term in the White House, overcoming including economic hardships, Republican domination in Congress, and an influential opponent, Governor Mitt Romney.
The possible outcome for the 2012 Presidential Election kept the entire Hamilton College community in gripping suspense throughout Election Day. As students huddled in front of television screens in dorm rooms, the Hamilton College Democrats, led by President Will Rusche, and the College's Department of Government, led by Professor Philip Klinkner, sponsored a campus-wide viewing party within the Sadove Student Center. Beginning when the voting polls started to close and ending following the President's acceptance speech, the event was met with heavy student involvement and great enthusiasm.
"I thought [the party] went very well, with an impressive turnout and lots of bipartisan student excitement and engagement. The many sponsors and organizers…did a fabulous job," said Professor Robert Martin of the Government Department.
Rusche was also amazed by the amount of student interest demonstrated during this year's election. "I'm happy to say the level of civic engagement on campus expanded during this election cycle," he said. "I think last night was a perfect culminating event for a semester that saw more students voting, discussing and turning out for political events than we've seen in a long time."
As the results of the election were broadcasted on the television, the energy of the students in the Sadove Living Room reached its peak, with students embracing and cheering in expressions of joy and, for some, relief.
Rusche insists that the atmosphere of the student body in that very moment will undoubtedly be one of his "best Hamilton memories," for that night, "We witnessed history."
Specifically, this election season has proved to be a season of historical firsts on national and regional levels. Across the nation, not only did the United States witness the re-election of the country's first African-American president, but also, in a historic turnaround, same-sex marriage was passed in the states of Washington, Maine and Maryland, reflecting America's shifting attitudes about same-sex marriage. Twenty women were also chosen to serve in the Senate, a new record and a great step in the movement towards gender equality.
Additionally, Colorado and Washington became the first states to legalize recreational marijuana, a major move in what has been considered a nation-wide war on drugs. Medical marijuana was also legalized in Massachusetts, underlining long-running trends in public opinion toward more permissive attitudes on drugs.
Regionally, in New York, Hamilton alumnus, Ron Kim '02 won a Flushing Assembly position against Phil Gim, an achievement that makes Kim the first Korean American elected to statewide office in New York, as noted by Queens' Times Ledger.

Matt Cartwright '83 won his congressional race in Pennsylvania, while Christie Vilsack K'72 lost a close race to Steve King in Iowa.
Although the emotions in the Sadove Living Room Tuesday night were clearly those of extreme happiness and optimism for the future of the United States, the country will once more be faced with myriad issues regarding policy deadlock amongst Democrats and Republicans. In addition to re-electing President Obama to the White House for another four years, voters reaffirmed Republican control of the House and gave the Senate over to the Democrats once more. Though he has been given a second chance, President Obama must once again face governing a divided nation, a challenge that unquestionably will be tested rapidly.
"America is still very divided. As a second term president I expect [Obama] will be a better, more successful leader, which, of course, is in America's best interest," said Sarah Larson, president of the Hamilton College Republicans. Despite Governor Romney's defeat, she remains hopeful for the President's second term. "The fact that the Republican Party didn't 'win' any 'swing' states is a huge morale blow to the party that I suspect, and hope, will inspire some serious reevaluations of our platform and public image. I am thankful that the campaign led to a productive…discussion of Obama's presidency and the real issues that face this nation. Republicans look forward to the president keeping his campaign promises and helping him to guide this country."
For the majority of Hamilton students, however, this remains a time for celebration. In response to all the results of the 2012 Elections, Rusche says, "our country is moving forward. I look to the next four years as a time when progress can be sustained and action can be taken in Washington."
The closing of President Obama's acceptance speech fully embodies such hope for the future, regardless of the struggles that we as a nation will surely need to overcome: "We are greater than the sum of our ambitions. We are more than a collection of red and blue states. We are the United States of America. And with your help, and God's grace, we will continue our journey forward, and remind the world why we live in the greatest nation on earth."