News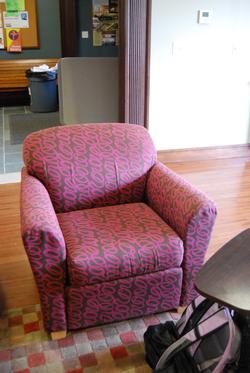 Survey favors cozy chairs
By Julia Grace Brimelow '14
November 29, 2012
The first floor of Sadove resembled a scene out of a children's tale: students playing their best Goldilocks, testing four chairs selected by Physical Plant as contenders for new dorm common room furniture.
"It's a fun thing for Hamilton to do for students," said Sam Wagner '14, emerging from the fourth and final chair in the selection series.
In the beginning of November, Physical Plant hosted this Furniture Survey in Sadove Living Room in the hope of soliciting student input in the selection of new lounge chairs for residence hall common rooms. These surveys are a new exercise for Physical Plant, which began using these outreach events to gather student feedback last spring in the midst of their search for new standard mattresses.
Each fall, following annual inventory of residence halls, Physical Plant determines which furniture pieces are in need of repair, disposal and replacement. Physical Plant also confers with The Office of Residential Life to best assess the needs of dorm lounges.
"After this last survey, we [were] able to surmise that the Residence Hall Lounges are utilized for more social and meeting spaces and that students are gravitating towards comfort seating in these spaces as opposed to more utilitarian furniture that is more appropriate for studying," said Jennifer Piren, Assistant Director for Physical Plant.

To best address this change, Physical Plant began the process of searching for more modern, comfortable seating to replace aging common room furniture.
It was a natural decision to ask for feedback from students, says Piren. "I feel getting feedback on furniture from students is very important before purchasing. These spaces are your "home away from home."
The four furniture samples included in the survey represented a variety of styles, ranging from large, plushy chairs to more structured forms that had the added bonus of tablet attachments. The chairs were chosen because they presented different options relating to size, comfort and utility, giving students the widest selection to choose from.

"We wanted to give people options," said Physical Plant Student worker Tracy Mazerolle '15. "The choice will be very much based on student feedback surveys, which rate the chairs on comfort and physical appearance."
After the three days of conducting the survey, a clear winner emerged among the four options. Chair C, officially named "Portage," was the favorite. This cozy chair differed from the other options in its large footprint design and plush cushions, a clear departure from the harsh, scratchy butcher-block upholstery that currently covers most dorm lounge chairs.
Pending formal budgeting and the drafting of a furniture replacement plan, this lounge chair may grace lounges on both the dark side and light side as early as summer 2013.