News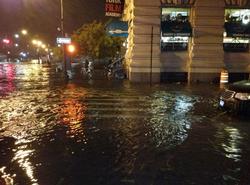 Sandy displaces NYC students, leaves campus unscathed
By Brian Sobotko '16
November 8, 2012
Last week Hurricane Sandy devastated the East Coast, causing massive power outages throughout the tri-state area and resulting in the tragic loss of over 110 lives.
While Hamilton was lucky to avoid the brunt of the storm, members of the community were still affected. The storm, which did not cause any power outages or damage to the campus, did force the evacuation of the 15 Hamilton students residing in lower Manhattan while participating in the New York City program.
"We determined that we would evacuate the program if a mandatory order was issued. When that occurred on Sunday morning, we immediately made plans to relocate the fifteen students. Some students elected to stay with friends and family members in the greater NYC area, and six were brought back to campus that night," said Meredith Harper Bonham, chair of the Hamilton Emergency Response Team (HERT). Since returning to campus those students have resided in the college's rooms in the Bristol Center.
"We've held a sort-of posh refugee status since Sandy hit NY, with an incredibly accommodating camp (Hotel Bristol). At this point, though, the cross-KJ 'Hey, you're back!' shouts have soured into 'Wait, you're still here?' I'm beginning to feel like a regular student again," explained New York program participant John Kennedy '14.
At this time it is unclear when the students will be able to return to the city. The building, located at 1 West Street across from Battery Park, remains uninhabitable. All NYC Program students returned to campus Monday and resumed classes for the program Tuesday night.
One Hamilton student, Jessica Griffith '13, was stranded in New York for over a week because of the hurricane. Griffith went to New York on Friday Oct 26, planning to return to campus that Sunday. After several cancelled trains and a week without power, she finally returned to campus last Sunday.
"I was sitting in my brother's apartment before the power went out and the sky turned green, and I thought the city may have been invaded by extraterrestrials," Griffith said, referring to a transformer explosion at a Con Ed power plant in lower Manhattan.
She also noted how accommodating her professors were in the wake of the storm, pointing out that in order to make contact with them, she had to climb to the top of her brother's building to try to find service.
While several students experienced major inconveniences, the Hamilton community on the Hill was virtually unaffected by the storm despite speculation by students and careful emergency planning by school officials.
"HERT met again last Monday (Oct 29) to address the potential impact of Hurricane Sandy on our campus. Since the forecast for that evening was for severe wind and heavy rain, we decided to cancel activities and close facilities beginning at 5 p.m. to limit movement around campus," Bonham said. The team then agreed to convene at 5 a.m. the next day on a conference call to determine, what—if any—measures would need to be taken on Tuesday.
As this team met, several departments within the school worked on specific contingency plans. Bon Appetit made plans to feed students in the event of power loss and limited access to suppliers while ITS tested and prepared its backup systems. Meanwhile, the Physical Plant prepared the campus in an attempt to minimize damage. According to Associate Vice President for Facilities Steve Bellona, the preparations included ensuring catch basins and inlets to storm water systems were clear of debris and inspecting flat roofs to insure drains were clear of leaves and debris. Additionally, Physical Plant inspected all generators to ensure functionality and also set up portable emergency generators for Campus Safety and the Health Center.
The college's preparations were coordinated through HERT. The 11-person HERT is a subset of the Hamilton Incident Management Team (HIMT). This team formed following the tragic shooting at Virginia Tech in April 2007 and based on lessons learned from September 11 terrorist attacks, meets regularly to prepare the college's response to emergencies.
"The Hamilton Emergency Response Team has undergone extensive training in the federal Incident Command System, and we meet monthly to discuss how we can refine further our processes and procedures," Bonham said. "Hamilton is immensely fortunate to have a group of dedicated people who bring a great deal of knowledge and experience in managing crises."
The team also performs an annual live drill in coordination with local emergency responders. These drills have included an active shooter on campus, a residence hall fire and a bleacher collapse.
Bonham speaks confidently of team's abilities and seems assured that it provides a strong set up for emergency management.
"Because of the high level at which HERT functions, we are able to make well-informed decisions quickly based on extensive planning and practice."