News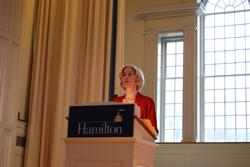 Nussbaum lectures on social justice and religious intolerance
By Jack Cartwright '15
November 8, 2012
Martha Nussbaum addressed members of the Hamilton College community about something not many people want to acknowledge or confront: Western religious intolerance.
Nussbaum is the Ernst Freund Distinguished Service Professor of Law and Ethics at the University of Chicago. Additionally, she is an Associate in the Classics Department, the Divinity School and the Political Science Department, a member of the Committee on Southern Asian Students and a Board Member of the Human Rights Program.
Introducing Nussbuam, Philosophy Professor Marianne Janack said "to list all of her books would take longer than any reasonable introduction should."
The Diversity and Social Justice Project, the Chief Diversity Officer Donald Carter and the Dean of Faculty Patrick Reynolds sponsored the event. According to Janack, the sponsors wanted Nussbaum to talk about "issues of diversity and social justice," to which Nussbaum suggested addressing religious intolerance.
Nussbaum stated that many nations like to think religious animosity in Western nations is in the past, but , "we have many reasons to doubt this." She pointed to European nations that have passed discriminatory laws against people of the Islamic faith, such as the burqa ban, or the ban on Minarets in Switzerland that are associated with Mosques, and a ban on Kabob shops in an Italian town.
In the United States, she says that things are better than they are in Europe. Nevertheless, while there are no proposed bans on the burqa, employees of private companies face discrimination, such as a Disney World employee suing for her right to wear her burqa at work because Disney says "a headscarf is not the Disney look." Additionally bans on Sharia Law in Oklahoma and a proposed Tennessee law threaten Muslim ways of personal conduct.
With regards to the Tennessee law that would make following Sharia Law a felony, Nussbaum called it "ridiculous as proposed."
Nussbaum discussed the ways in which we must evaluate laws with regard to religious liberties by drawing off ofthe ideas of philosophers Roger Williams and John Locke.
Roger Williams said, "All human beings are bearers of human dignity," with which we should pay equal respect to each other's conscious. Additionally he said that any prevented outward observances should be considered "soul rape."
John Locke said that there could be laws that do not penalize specific religions that are non-discriminatory about practices.
Williams says Locke's idea should be strengthened because a majority can be unfair to a minority in a democracy. Instead he says that accommodations should be made for religious minorities—something Nussbaum agrees. She says "to grant them accommodation is to restore religious equality and liberty."
The rest of Nussbaum's lecture focused on systematically dismantling the arguments in favor of the French ban on burqas. Her main argument boils down to the idea that unless there is compelling state interest, no religious liberties can be prohibited. Since the main argument for banning the burqa is to maintain safety, Nussbaum calls this flawed logic because the law is applied inconsistently.
She proceeded to go through and discuss the ways in which the reasons for the law do not actually represent a compelling stat interest.
Many students and faculty crammed in the chapel to hear what Nussbaum had to say.
Nussbaum is "one of the most knowledgeable public intellectuals I know," said Janack. "She is also very good at enumerating all the arguments against the position for which she's arguing, and showing what's wrong with them."