News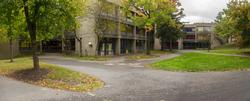 Hamilton to overhaul first-year experience
By Brian Sobotko '16
October 4, 2012
When Hamilton welcomes the class of 2018 to the Hill in the fall of 2014 the college will also usher in new first-year policies that drastically changing the first-year experience.
Last Friday, the ad hoc Committee on the First-Year Experience released their final report recommending "first-year housing, first-year academic courses, an enhanced advising system, implementation of summer registration, and the creation of administrative supports."
The recommendations, designed to ease the sometimes rough transition first-years face when beginning college, include significant changes in first-year housing. These changes are designed to promote an immediate sense of belonging and unity among first-years while also with the hope of reducing the impact of alcohol on campus. The committee has decided to implement first-year "clusters" across the following six residence halls: Dunham (basement, first and second floors), Carnegie (third and fourth floors), Keehn, Root, South and Wertimer. These six halls were chosen because they are spread across campus and they will preserve the greatest number of single rooms for upper-class students. Implementation of this plan will require renovation of Dunham, Keehn and Root to convert as many singles as possible into split doubles. Residential life also plans to increase RA presence in first-year areas as necessary to increase support and create unity amongst first-years.
In order to accommodate January admits in the spring semester, areas of Dunham and Carnegie will be designated for upper-class students who plan to study abroad in the spring. In a response to increased student demand, the committee recommends increasing the REAL program to 100 students in South and Wertimer. The report also supports a plan to renovate Minor Theater into upperclass apartments to help compensate upperclass students for the loss of desirable housing in Carnegie.
While the published report proposes discussing the committee's findings in faculty and Student Assembly meetings, administration is moving forward with the plan for the fall of 2014 without further student input.

"The final decision around housing has largely already been made. In order to move forward with sufficient time for the admissions staff to provide accurate information for prospective students, as well as to address the structural changes needed to make these residence halls appropriate for first-years, our planning is well underway," said Assistant Dean of Students for Residential Life Travis Hill
Last year, the Committee on First Year Experience, which includes many faculty and administrators as well as Isaac Handley-Miner '14 and Anthony Jackson '15, did meet with Student Assembly, a focus group of Resident Advisors, and also offered two open meetings to the entire campus to discuss changes in first-year housing. Despite this, Hill still expects a possible student backlash to the decisions.
"Students may be concerned and some may be unhappy with the changes. Some of our current students likely chose Hamilton because they found the mixed class year housing attractive, just as future students might choose Hamilton for the first-year housing," Hill said.
In response to the news, Chelsea Ziegelbaum '14 expressed exactly this concern. "One of my favorite parts about living in Dunham my freshman year was the chance to meet upperclassmen and use them as my mentors. Hamilton is a small, close community where all people should be able to live together regardless of class year."
Hill recognizes this but also contends that this exposure to upper class students early on in the college experience does not always create an environment of positive growth for first-years.
"There are also many [occasions] in which upperclass students have been less than ideal role models," he says.
"We recognized the value of promoting and maintaining interactions between upper class students and first-years. Clustering does exactly this, while still providing the benefits of housing first-years together," Jackson said.
Handley-Miner adds "I certainly do not want the creation of friendships between the various classes to be stifled; I think those relationships will still form on the field, at parties, in the classroom, and so forth."
The committee also announced planned changes in a first-year's academic experience led by the implementation of a first-year course (FYC). The 30-35 FYCs will try to acquaint all first-years with Hamilton's academic expectations and disciplinary practices while framing the course in the context of a liberal arts education. These courses will be slight modifications of existing introductory courses.
All first-years would be required to take an FYC with January admits either taking one from a Hamilton faculty member in London or taking a special course designed for them during the spring semester. These classes would either be a seminar capped at 16 students or slightly larger classes capped at 25 students.
Each FYC would also have an upperclass student mentor selected by the faculty member teaching the class. These paid mentors would attend all classes, do all readings and be available to meet with students outside of class. Seven other NESCAC schools either require or encourage their first-years to take some sort of FYC.
The committee also recommends first-year class registration occurring over the summer and possibly the shortening of orientation. The entire report can be read in an all-campus email from Patrick Reynolds or as an attachment in the minutes from the Oct. 1 Student Assembly meeting.