News
Hamilton stands with Boston
By The Hamilton Community
April 18, 2013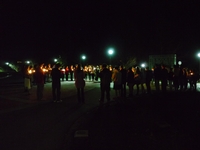 The Spectator would like to pay homage to those affected by the bombings at Monday's Boston Marathon. Given the number of students who are from the Boston area, or who may have known someone at the race, the editorial staff asked members of the College for their responses to the bombings. We are publishing every statement we received.
• • •
If you're from Massachusetts, you might know how I felt on the morning of April 15th. I wanted to wake up to the sound of drums on the Lexington Battle Green. I wanted to watch the Patriots' Day Parade march past my street. I wanted to cheer for my dad as he ran toward Heartbreak Hill around mile 16 of the Boston Marathon. I wanted to be home.
At 9 AM I texted my dad to wish him good luck, and told him to "have fun chasing the Redcoats." This was his 49th marathon, so I had no doubts about his safety.
At 1:45 I got a text from my sister saying that he finished the race with a time of 3:22:50.
An hour and a half later she texted again: "there were two huge explosions right near the finish line of the Boston marathon. Dad is safe but this is really scary."
And then, from the middle of the library, I sat in front of my laptop and watched my city explode. I've traveled across oceans, but never have I felt so far from my home and my family as I did that day.
I managed to hold myself together until my dad called me. "I just wanted to talk to you," he said, voice shaking. "I love you."
I lost it. I couldn't stop thinking about how close I'd come to not hearing those words, to never seeing his number appear on my phone again. The realization of how lucky I was struck me with the force of a bomb.
The texts and Facebook messages flooded in from friends and family: Are you ok? Is your family safe? Yes we're fine, thank you so much for the concern. Sending you all of our love.
It's been surreal to see the whole country stand in support of me, my family, my city. While thankfully no one I know was hurt in the attack, it felt so personal and so close to home that I took all the stories of love and kindness just as personally. There are lists on the internet of everything people did to help one another in the aftermath; messages of care and concern dominated my newsfeed.
My friend in New Zealand, whose son goes to Harvard, asked "who would do something so awful?" I told her that whoever it was, they only proved that the human capacity for kindness is so much larger than the capacity for violence.
—Allie Kerper '15
• • •
My younger brother, cousins on one side of my family, and my girlfriend's family currently live in the Boston area and some were at the Marathon. Thankfully everyone I knew who was at the Marathon was unscathed. However they did share my sentiment that the Bombings were indicative of the disturbing place our nation and world is currently in, where unprecedented violent acts in the public realm seem more commonplace than ever. Yet despite the aforementioned sentence, I remain optimistic that most people yearn to do right in the face of our inherent imperfections.
—Jason Ross '14
• • •
Since I grew up in Lexington, Mass., I always get a little nostalgic on Patriots' Day. This year, hearing about the Boston Marathon bombings shocked and saddened me... It was REALLY scary learning that one of my close friends had crossed the finish line just 50 seconds before the first bomb went off. This violent act should not overshadow the remarkable accomplishments of the marathon runners and the joy, pride and happiness that usually characterize the Patriots' Day I know and love. The only silver lining throughout this is the outpouring of support for the Boston community.
—Alex Orlov '13
• • •
The Boston Marathon was the most patriotic event that I have ever been a part of. While I was running, it was incredible to see families and friends cheering together, handing out drinks and yelling words of encouragement in support of the runners from many countries. The unity of the crowd throughout the 26.2 miles inspired me to keep running. I am devastated by the act of violence that tainted the event but I am inspired by the caring and thoughtfulness, both during the race and the ensuing crisis, of so many individuals that I witnessed.
—Fiona Hoffman-Harland '13
• • •
Boston is my home and on Monday April 15, 2013 everything changed. Whoever did this, violated something I love. I can feel better knowing there is support. I can feel better knowing that right now, Boston is everyone's home.
—Hannah Coffin '14
• • •
John 15:33 "Jesus answered. 'In this world you will have trouble. But take heart! I have overcome the world."" Thoughts and prayers to all affected by the Boston Marathon bombings.
—Hunter Dansin '16
• • •
Being from Boston, I never expected to hear of something like this in my lifetime. As my father put it, "Things like this never happen in Boston. New York or Washington, maybe, but never Boston. I mean, it's Boston." I can't begin to describe the thoughts that ran through my mind when I received the phone call from my mother detailing the events. It's hard to fathom that someone would commit such an act of terror, especially on a day of festivities. Those from Boston understand how special the Marathon is, but now it will forever be marred by tragedy. I was so proud to hear of runners abandoning their Marathons in order to help those impacted by the bombings. We, as a city, will not succumb to acts of violence designed to evoke fear; we will stand up and fight them together in unity.
—Alycia Racicot '16
• • •
My twin sister was running for the Tufts Marathon team when it happened. For the past two weeks she had been complaining about pain in her knee but she still wanted very badly to run. She ended up compromising and simply running the marathon at a reduced speed.
After I heard the news I tried calling her and my parents who were there at the race. After several failed attempts (the cell service was jammed to prevent remote detonations), I was finally able to talk to her. She said she was around the 24th mile when people started telling the runners to turn around; if she had run the marathon at a quicker speed, she might have been in more danger.
Meanwhile my parents were waiting at the finish line when it happened and were approximately half a block from the explosion. My mom said it sounded like a cannon and she could feel tremor as well as see the smoke rising from the site. Thankfully my parents and my sister were safely reunited soon after the blasts.
—Rob Evans '14
• • •
Boston is my home and on Monday April 15, 2013 everything changed. Whoever did this, violated something I love. I can feel better knowing there is support. I can feel better knowing that right now, Boston is everyone's home.
—Hannah Coffin '14
• • •
Mark Snickenberger, Hamilton College Class of 2011, was unfortunately one of the innocent victims of yesterday's bombings. Mark injured his leg in the bomb blast but is expected to make a full recovery. While at Hamilton "Snick" was a proud member of the football team (he currently has the school record for touchdowns in a game) as well as the Psi Upsilon fraternity.
—Eric Boole '13,
Mike MacDonald '13