News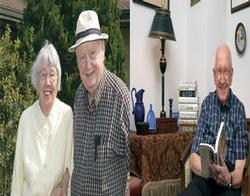 Hamilton remembers the lives of two Professors Emeriti
By Katie Hee '14
November 8, 2012
There are few teachers who dedicate their entire lives to their students, but this week Hamilton remembers the dedication of two of these professors who forever changed the College community. Professor of Physical Education Emeritus Comfort Cary Richardson and Professor of English Emeritus Frederick R. Wagner both recently died, leaving legacies of dedication and generosity.
Comfort Cary Richardson came to Hamilton with her husband and two children in 1952 when her husband, Channing Richardson, joined the faculty of the Government Department. The family of four moved into the downstairs apartment of the newly renovated Root Farmhouse. The Wertimer family, Sidney, Ellie and their two children, moved in upstairs.
"We just hit it off from the beginning," explained Ellie Wertimer, "I was as close to Comfort as I was to any of my three sisters."
Comfort and Ellie spent the next ten years as "faculty wives;" they baked cookies and arranged flowers for the President's lunches, graded first year placement tests, and welcomed new faculty members. They also each raised four children.
"To entertain our kids, we would bring them to Hamilton football practices," Ellie remembered, "we would sit and talk and the kids would play with the team."
In 1968, Kirkland College was founded for women and within a year the women required an athletic program. Comfort, an avid tennis player, began to coach tennis, the first women's varsity sport team at the College. In 1969 she was hired to create the Kirkland Athletic Program, which she developed and administered, in addition to coaching the tennis team.
As Kirkland and Hamilton began the process of merging, Comfort assumed the role of Dean of Student Affairs for Kirkland. After the merger she joined the Physical Education Department at Hamilton where she grew the four women's varsity sports teams into a strong athletic program before her retirement in 1982.
Comfort remained involved in the Hamilton and Clinton communities throughout her time on the Hill. She was a devout Quaker and was active in the Mohawk Valley Friends Meeting.
"She was an incredible contributing member of the community," remembered Assistant Vice President of the Career Center Mary Evans, "she was always encouraging, she just wanted what was best for Hamilton, especially what was best for women."
Comfort and Channing Richardson moved to Kendal-Crosslands, a Quaker retirement community outside of Philadelphia in 2000 but their contributions to Hamilton persisted. In 1997, the Alumni Association presented her with the Bell Ringer Award, one of their highest distinctions. Three years later, other alumni and friends created the Channing B. and Comfort Cary Richardson Fund for Faculty Innovation in their honor.
"She was wonderful," said Ellie, "she had a heart of gold but a tough mind and while she had very high standards for herself, she was willing to give everyone else the benefit of the doubt."
Comfort Cary Richardson died in Kennett Square, Pennsylvania on Oct. 26 at the age of 94. She is survived by her children, Meg, Ann, David and Eric. In lieu of flowers, they have asked for donations to be made to Hamilton, the American Friends Service Committee, or Alzheimer's research.
Frederick Reese Wagner joined the Hamilton community in 1969, the same year as Comfort Richardson, as a member of the English Department. He served as chair of the English Department from 1978 until 1990 and was honored with the first ever Christian A. Johnson Excellence in Teaching Professorship.
"He was one of the best teachers we've had at Hamilton," said Associate Professor of English Nathaniel Strout, "maybe the best ever in my time here."
Before joining the Hamilton faculty, Frederick Wagner had received his bachelor's and master's degree from Duke University in 1948 before serving in the Army for two years. After being discharged from the Army, he began his ten-year career in the book publishing industry, working as a promotion manager for Prentice-Hall and later Harper Brothers Publishers. He left the publishing business in 1969 in order to do "something of value" and received his Ph.D from Duke in 1971.
At Hamilton, he was well known and loved for his discussion style of teaching. When he joined the College, there were no limits on class sizes and he would sometimes have 100 students enrolled in his lecture. He split his lectures into small discussion groups and held these smaller meetings multiple days a week. Nat Strout remembers how much work Wagner put into his teaching.
"At one point he was meeting 11 hours a week for one course. That was the extreme, but it would not be unusual for him to meet with students from one class 5-7 hours a week."
In addition to teaching, he was a member of Phi Beta Kappa, the Hawthorne Society and was president of the Thoreau Society. He also published numerous books but continued to put his students first.
"I put everything aside for teaching," he once said, "preparing for classes, correcting essays, having discussion groups."
This effort was obvious to his colleagues and students. "He was extremely careful in marking essays," Strout remembered, "he would reread his comments and use scissors to physically cut out things that he wrote but changed his mind about."
Students would go to his office to talk to him, enjoying his care and sense of humor. "Students knew he cared about them," said Strout, "it was clear he was interested in them and what they had to say."
Wagner retired in 1995 but continued feed his passion for literature and remained sharp until just before his death. "He had a voracious appetite for reading, his house was stacked with books," said Profesor of English Emeritus John O'Neill.
Fred R. Wagner died on October 28 in Utica. Survivors include his son Christopher (Alex) Wagner '73 and a granddaughter, Alexandra. A celebration of his life will be held later this year but in the meantime, donations in his memory can be made to the Frederick Reese Wagner Prize Scholarship.