News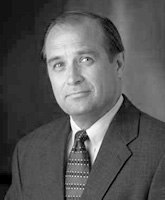 Hamilton graduate encourages students to work in D.C.
By Rachel Lieb '13
November 29, 2012
Interested in working in politics? Business? Law? Communications? How about the arts? If you answered "yes" to any of these questions, then, believe it or not, Washington D.C. is the place for you!
On Sunday Dec. 2, George Baker '74 will offer a talk for the campus community entitled "So You Want to Work in Washington? Careers on the Hill, From the Hill". Baker, who received his law degree from Catholic University in 1977, is currently a partner at D.C. lobbying firm Jensen PLLC, .
Baker's path to Washington might sound familiar to many Hamilton students: "I came down here as a junior in college with the Hamilton program and worked for my congressman for a few weeks and worked for the brand new Environmental Protection Agency and worked on the Clean Air Act and the Clean Water Act."
Baker still meets with current participants in the Hamilton semester in Washington. "I listen to their thoughts and what they're interested in and it's the same stuff from a generation or two ago," he remarked.
Now, Baker has established a very successful career and wants to help current Hamilton students however he can: "I enjoy very much helping students enter this world in Washington and helping them make sense of it."
His talk on Dec. 2 will cover not only what it's like to work in Washington, but how to get started thinking about a career there. "The presentation is designed to provide a framework of how one might think about Washington in terms of your own career and aspirations and give kids a working head start on how to figure out their own strategy," Baker claimed.
"There's just such a wide variety of players in the public policy drama here."
For those who believe that Washington is only a place for people who want to work in politics or public policy, Baker assured, "It's not a one-horse town. There are corporations, small businesses, non-profits and cultural opportunities in Washington."
Despite a difficult economy, Baker feels Hamilton students are well prepared to work in Washington, in whatever career field they choose. "[Hamilton] students are very well prepared to come work here," he said. "Their ability to analyze, their critical thinking, ability to write, ability to speak are all things which are primary skills and talents which are useful in Washington…. The government always has need for people and the policy discussion of non-governmental entities…continues. There is a permanent need for young people to come and fill positions."
Though Baker attended Hamilton before it became a co-ed institution, he sees more similarities than differences between students now and then. "I think they're a lot smarter," Baker remarked. "They are the same in many ways as well: they're eager, they're ambitious, and terribly nice young people. I think the kids today have a very nice spirit about them. The school becoming a co-ed institution was very positive for Hamilton. I think having women there has been a wonderful decision and wise development."
Baker's presentation will be aimed towards all class years and he encourages those who might not know exactly what they want to do yet to attend. "First, the presentation is designed not just for seniors, but for students in any year," Baker noted. "It would be beneficial to anyone, because it's not just about permanent employment for after graduation, but about how to pursue internships or finding a shadowing opportunity. It's never too early to be thinking about how the Hamilton experience will make you a happy, productive person in life, and part of that is thinking about what you want to do with the skills you acquire at Hamilton in terms of future employment."
Baker's talk, "So You Want to Work in Washington? Careers on the Hill, From the Hill," will take place on Sunday, Dec. 2 at 7 p.m. in KJ 201. "A whole cradle of opportunity is on display here in Washington," Baker added. "You won't find it anywhere else."