News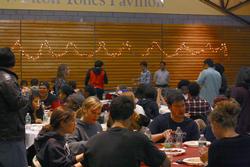 Hamilton celebrates Diwali
By Jack Cartwright '15
November 29, 2012
On November 14, believers in the Hindu religion, along with many other Hamilton students, celebrated the festival of lights—the all-important Hindu holiday of Diwali.
Diwali is considered to be the most important holiday in the Hindu tradition and marks the end of the financial year for businesses.
"Diwali is as important to us as Christmas is for Christians," Yan Zhong Zhen '13 explained.
It is typically celebrated each year in October or November and lasts for five days. Each day has a special significance. On the third day of Diwali, for example, observers pray for wealth for the following year.
Diwali is celebrated differently throughout India. In one tradition, Hindus celebrate the return of Lord Rama after his fourteen years of exile. Nevertheless, certain things are universal in the celebration of Diwali. For instance clay lamps are used by all Hindus, along with powder patterns in the form of lotuses signifying welcome. Additionally, it is typically celebrated with sweets treats, friends, family and fireworks. The main idea that transcends all celebrations is the he victory of good over evil.
"Diwali is one of my favorite events of the year because I'm able to share the epic story of Ramayana with the campus," said Luxsika Junboonta '13.
Sponsored by the South Asian Student Association and the Asian Cultural Society, many students packed the Annex to listen to this history of Diwali, witness the Cornell Bhangra Dance Team and eat a delicious dinner from Minar.
Puru Gautam '16, a Hindu student, was glad he was able to celebrate such an important holiday for his religion, particularly since it is his first year away from home. "I'm just glad people can learn about other cultures, particularly mine," said Gautam.
Eliza Kenney '15 enjoyed the experience as someone who is not of the Hindu faith. "I was so glad to see how the Hindu people celebrate Diwali, especially since I have never been a part of such a celebration before," said Kenney. "I think it's really great they included non-Hindus in this celebration as well."