News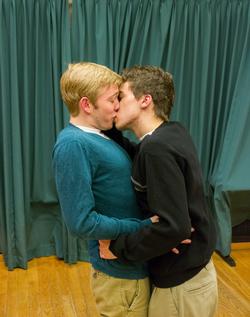 Community observes World AIDS Day
By Kaitlin McCabe '16
December 6, 2012
It has been thirty-one years since AIDS—Acquired Immune Deficiency Syndrome—was first recognized as a disease. Today, the Center for Disease Control reports that 34 million people live day-to-day with the grave illness, while 30 million people have already lost their battle. In 2011 alone, 1.8 million individuals died of AIDS. This fatal disease has been a growing epidemic for decades, and yet, there currently is no cure.
On Friday, Nov. 30th and Saturday, Dec. 1st, the Hamilton College community honored the 25th Annual World AIDS Day by sponsoring various initiatives to raise awareness about the disease that continues to grow more deadly. Students worked in conjunction with organizations such as FACE AIDS and Untitled@Large to both increase students' knowledge of the disease and to raise funds for different AIDS relief and treatment groups.
FACE AIDS is an extension of the youth movement Partners in Health (PIH). The money raised through the efforts of the organization provides essential HIV/AIDS treatment to those affected with the deadly disease in Rwanda, a country that tops the lists of those worst affected by the epidemic.
"Our general mission at Hamilton is to not only raise money for FACE AIDS, but also raise awareness of the scope of the HIV/AIDS epidemic on campus," Abigail Martin '14, an active leader of Hamilton's branch, explained.
In honor of World AIDS Day, Martin and the rest of Hamilton's FACE AIDS group was determined to raise $2500, enough money to transport 130 pediatric and disabled HIV+ patients in Rwanda to HIV/AIDS treatment centers.
On Nov. 30th, several members of Hamilton's FACE AIDS organization set up tables in both the Science Center and the Kirner-Johnson building to begin raise money for FACE AIDS through donations from the student body and faculty. Additionally, the organization created red ribbon displays in honor of AIDS awareness, which can now be seen in the Beinecke Student Center. By selling baked goods, red ribbon pins and handmade bags directly from Rwanda, Hamilton's FACE AIDS raised approximately $125.
"Though we would have loved to see more people donate, I think that the event was a success and raised campus-wide awareness of World AIDS Day," said Martin.Students at Hamilton also raised awareness about the AIDS epidemic through theatrical performance. On both Friday and Saturday, students joined forces with Untitled@Large to put on a student-run production of The Normal Heart, a semi-autobiographical play by Larry Kramer about the rise of the HIV/AIDS crisis in New York City between 1981 and 1984.
Lauren Lanzotti '14, the director and leader of the project, has worked with AIDS Community Resources for the past two years. Upon learning of The Normal Heart's 2011 revival on Broadway, she was inspired to direct her own production of the play in order to raise money for World AIDS Day at Hamilton College.
"[Because] I've worked with AIDS Community Resource," Lanzotti said, "I feel like I have always been more aware of HIV and AIDS than my peers. When I first came to Hamilton, I was surprised by the amount of people I encountered who had never been educated in safe sex or sexual health properly. I wanted to help out AIDS Community Resources because they are so effective in their mission and they need as much financial help as they can get."
The Normal Heart was an emotional experience for both those students involved in the production and the members of the audience.
Nathan Goebel '15, who played the lead role of Ned Weeks, said, "I was honestly overwhelmed by all of this the first time I read the script. After seeing the play come to life, AIDS seems like a much more pressing and grim reality than before. I was incredibly sheltered growing up, but I think it's fair to assume that many Hamilton students, like me, were not educated about AIDS-related or even gay-related topics."
Similarly, audience member Hunter Green '16 praised the extent to which the play forced the viewers to acknowledge the devastating reality of AIDS. Specifically, the front of the stage was covered with notecards revealing the names of people who died of AIDS. Throughout the entire production, more and more names were added to the massive, heartbreaking heap.
"The strong gravity with which these notecards sat, over the entire course of the play, served as a constant reminder of the heaviness of the topic at hand. Not only were these notecards a fitting dedication, but also a moving illustration," said Green.
By the end of the weekend, The Normal Heart raised $1006.81 for AIDS Community Resources. With this donation, the local organization will fund educational programs about safe sex and STD testing in Oneida and Herkimer Counties. A portion of the donations will also be used to provide Herkimer citizens and Utica refugees who are suffering from HIV/AIDS with the health care they desperately need.
Both the efforts of those involved with FACE AIDS and with The Normal Heart serve as reminders that HIV/AIDS remains a severe and fatal plague upon the United States and the world. Though the much-needed cure has not been discovered over the three decades since its discovery, hope must not be abandoned.