Features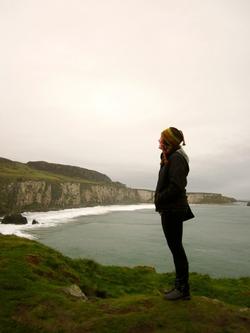 Where in the World is Katherine Delesalle?
By Katherine Delesalle '14
December 6, 2012
Here are 10 things I've seen and learned during my time abroad in Ireland:
1. Cork. This city, the third largest in the country, has truly become my home away from home over the past few months. I could write pages and pages about my experiences here and how much I love this small city; however, I'll keep it short and sweet and simply say that it's been the perfect place to study abroad, and I highly recommend it to anyone who's interested in coming to Ireland.
2. The Aran Islands. I visited Inisheer, the smallest of the Aran Islands, with my Early-Start program in August. Tucked away from the world, the island remains rich in Irish folklore and retains that sense of enchanting otherworldliness that I've always associated with Ireland. It is, I can honestly say, one of the most beautiful places I've ever visited, followed closely by #4.
3. When people ask you, "What's the craic?" they are not referring to an illicit drug. Rather, it's the Irish way of saying, "What's up?" or "What's going on?" People will also say, "Oh, it was great craic," meaning that they had a particularly good time.
4. Dingle, Ireland. A small peninsula in the southwest of Ireland, Dingle is a charming little village surrounded by the lauded, lush Irish countryside. A highlight of my time abroad was galloping through the surrounding mountains on horseback.
5. In Ireland, when you're not sure how to respond to a question, simply say, "grand" and smile. 99% of the time, it's the correct and only response required.
6. Blarney Castle. Home of the infamous Blarney stone, which reputedly gives the gift of eloquence to anyone who kisses it. Also rumored to be a spot where lads like to relieve themselves.
7. Ireland has fantastic traditional music, which you can hear at local pubs during "trad sessions." At these sessions, traditional Irish musicians come together to make music in an informal setting, creating a fantastic atmosphere for enjoying a casual drink with friends. Several hired players usually lead the session, but other musicians often join in.
8. Belfast. My study-abroad program, IFSA-Butler, took us all to Belfast for a weekend in November, and we were able to take a Black Taxi Tour of the Belfast wall murals and one of the peace walls (which we all signed). It was a powerful experience for my friends and me, especially hearing a personal account of the troubles from a man who grew up during the conflict
9. The Irish have a wonderful tradition of storytelling, which (sadly) is dying out since most people prefer TV to stories nowadays. Nonetheless, many stories have been recorded and translated from their original Gaelic and give insight into the traditional Irish belief system and way of life. Fairies feature prominently in these stories, and fairy lore demonstrates the unique blend of Christian and pre-Christian, popular belief that characterizes much of Irish myth and legend.
10. The Ring of Kerry. My friends and I took a tour around the coast of Co. Kerry, which is home to some spectacular scenery and important Irish landmarks. I particularly enjoyed viewing and learning about Skellig Michael, a giant mass of formidable rock off the coast, which houses an ancient monastery dating as far back as the 6th to 8th century.