Features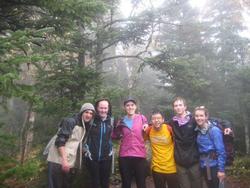 Students climb 43 Adirondack High Peaks
By Alexandra Orlov '13
October 4, 2012
Rain check? Not for members of the Hamilton Outing Club, who braved chilly September drizzle during the club's annual 46 Peaks Weekend. From Friday, September 28 through Sunday September 30, 125 students summited 43 of the 46 Adirondack High Peaks, most of which are over 4,000 feet. This year, 23 trips, with at least one leader each, attempted all 46 peaks. The number of peaks "bagged," 43, ties the Outing Club's previous record set in 2008. Participants and leaders alike enjoyed the wet adventures in the wilderness and viewed the weekend as a success.
This year, the HOC officers put in extraordinary effort to accommodate the unprecedented number of participants, who filled all of the trips within the first half-hour of sign-ups. The officers note that there was an especially great turnout from the class of 2016. Thanks to the numerous participants, some groups had identical itineraries and hiked the same trails—a first for HOC's 46 Peaks Weekend.
"People get really excited and everyone's dedicated to bagging as many peaks as possible," raved HOC Officer Helen Higgins '13, also noting that the Outing Club strives to make 46 Peaks Weekend accessible to both new and experienced hikers. According to Higgins, the goal of bagging all 46 peaks unites students and creates a sense of camaraderie among the diverse crowd of participants from all class years and walks of Hamilton life.
T
he officers decided to redefine some trip itineraries for this year in order to have the best possible chance of summiting all 46 peaks. Preparation also included allocating transportation, gear and food for all trips. Despite their acute attention to detail in organizing 46 Peaks Weekend, officers and trip leaders could not ensure sunny skies, nor rainbows, nor unicorns.
"We climbed Phelps and Tabletop and had great views of fog at the top of each," laments Anna Bastidas '13, an Outing Club officer who led a trip. Despite the consistently rainy conditions, Basitdas says she enjoyed spending time in the Adirondacks and seeing the magnificent fall foliage.
Meanwhile, HOC Officer Joe Lobel '13 says that it was challenging to continue hiking Dial and Nippletop while knowing that awesome views would not await him at the summits. Lobel, Jacob Trahan '13, and Ellie Fausold '13 covered 16 miles in eight hours. One perk of the abysmal weather? The Hamilton hikers had an easy time setting up camp on the side of Chapel Pond Pass...in Lobel's minivan.
Fording the Hudson and the Opalescent Rivers were all in a rainy day's work for a motley crew of students under the leadership of HOC Officer Max Lopez '15. The day began at 4:45 a.m., and Lopez reports that the intrepid group "slogged forward through muck and fatigue with happy hearts" en route to summiting Allen Mountain. The descent included a few muddy tumbles on the slippery slope, but the hikers still had "a jolly good time," recounts Lopez.
To learn more about future Outing Club adventures and trips, the HOC Officers encourage interested students to visit HOC equipment room open hours on Mondays and Thursdays from 7-9 p.m. at the Glen House.