Features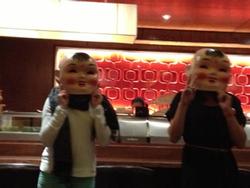 Restaurant Review: Mitsuba notorious for birthday shows
By Hailey Hayman '14
December 6, 2012
Trying to plan a birthday celebration with good food and drinks (depending on your age, of course)? Mitsuba, hibachi or regular restaurant style, is always a safe bet for tasty food and good times.
This past weekend, I went to Mitsuba with a group of 11 friends to celebrate a birthday. Though originally set on the 'dinner and a show' feeling of hibachi, we changed to the regular restaurant dining to save time.
The legally acceptable of us started out with a sample of drinks from their list of colorful named cocktails. Our selection, which are all recommended by the drinkers, included strawberry daiquiris topped with whipped cream, sex on the beach, sex on the dryer and mai thai. Our alcohol was accompanied by a lemon slice garnished glass of water to encourage responsible and well hydrated drinking.
Our orders spanned the variety of food options including classic sushi rolls, salads, soups, fried rice, chicken teriyaki and gioza so good one girl's meal consisted of a double order. I ordered the "Heaven" roll. Do not be fooled by the name, this beautiful dish is not for one with timid taste buds. Harmless and pink in color, an alternative wrap to seaweed, wasabi sauce is drizzled artfully and unavoidably about the meal. Teriyaki chicken served still steaming with a side of well cooked vegetables is also a great sushi alternative.
Make sure to inform your waiter that you are celebrating a birthday to ensure the guest of honor receives her complimentary fried ice cream and is forcibly encouraged to don a comedic mask and dance in the middle of the restaurant.
Including the extra festivities, our large group was well fed, entertained and out the door in an hour and twenty minutes.
For proof of the good times, check out Mitsuba's Facebook page, which has photos featuring the signature birthday masks—you are sure to spot Hamilton students amongst the collection. Students with a Hamilton ID are offered a special discount.
Mitsuba's two locations are about 15 minutes away from the college. The first, Mitsuba Hibachi Steakhouse Sushi Bar & Lounge, is located at 8562 Seneca Turnpike, New Hartford (315-733-8866). The second, Mitsuba Japanese Cuisine, is located at 17 Ellinwood Dr in New Hartford (315-765-8266).