Arts and Entertainment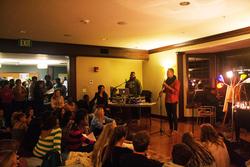 Speakeasy celebrates talented student artists
By Jessica Moulite '14
November 8, 2012
On Nov. 1, Hamilton College hosted its third-ever The SpeakEasy in the Sadove Living Room.
The SpeakEasy: Open Mic and Spoken Word Lounge is an event hosted by Dr. Crystal Endsley of the Africana Studies Department and co-sponsored by the Feminists of Color Collective, the Institute for Global Africana Studies, the Days-Massolo Center, and the Digital Humanities Initiative. The goal of The SpeakEasy is to provide a space for students to express themselves creatively in a safe space through spoken word, song and/or music, as well to enrich the Hamilton campus by bringing nationally recognized performers to campus.
"I think that SpeakEasy reflects a part of my overarching objective, which is to leave a legacy of excellence and to open doors for my students and my colleagues by employing art as a form of activism, one that is interested in tangibly shifting the climate on our campus," said Dr. Endsley.
The SpeakEasy began at 7 p.m. with Dr. Endsley and Anthony Jackson'15 as co-hosts of the event. The pair welcomed over a dozen and a half acts onto the stage such as Emma Wilkinson '16, who sang and played her guitar, and Kevin Alexander '13, who recited an original spoken word piece. Other talents included several students from Utica College's spoken word organization Open Moments and students from Colgate University who came to show their support.
As performers made their way to the stage, Nanyamka-Keyané Fleming '14 painted three canvases as a part of the live art section of The SpeakEasy. Her portraits were of a landscape, an abstract self-portrait, and an African-American girl wearing ballet pointe shoes. Her work was later given to three audience members after the show.
Before long, Dr. Endsley introduced The SpeakEasy's guest artist Oveous Maximus. Maximus was the winner of Amateur Night at the famous Apollo Theater in New York City, as well as a featured poet on the HBO series Def Poetry. He recited his poems "Uncensored" and "Dulce de Leche" in addition to providing The SpeakEasy audience with a glimpse of new music from his newest album Kill Your Myth [the night] that he will release on Dec. 12.
After Maximus performed, Dr. Endsley graced the viewers with a spoken word piece and announced the news that this year will be her final one at Hamilton.
"SpeakEasy is a way for me to model that love ethic for my community, and hopefully, it will persevere even after I'm no longer here," said Dr. Endsley.
If the successes of SpeakEasys from the past are any indication, Dr. Endsley's hard work and dedication will continue and so will The SpeakEasy tradition.