Arts and Entertainment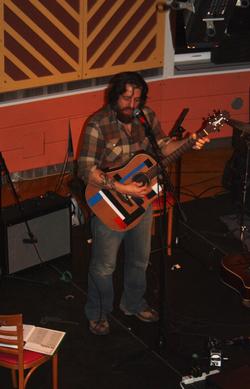 Rowe's nature influence shine in coffeehouse
By Taylor Coe '13
December 6, 2012
Five years ago, Sean Rowe spent 24 days in the woods with only a knife and a small pan. He had no tent, no clutch of culinary items, and no prepackaged food.
He also had no guitar—and yet, he came out the other end with musical ideas that would later coalesce into his first album Magic, released in 2007. His second album, The Salesman and the Shark, followed in 2012.
As if the nature anecdote were not already enough to drop jaws (not to mention make Justin Vernon sound like somewhat of a sissy), Rowe has another superb distinction: a warm, faintly-burred baritone that falls somewhere between Greg Brown and early Tom Waits. That voice—an instrument in its own right—was in fine form last Thursday night, deeper and more booming than his records suggest.

Rowe has a lumberjack's charm on the stage—a roughed-up, doleful countenance tempered by a sheepish modesty and a quick affection for the outdoors. His songs waltzed back and forth between visceral inquiry, ranging from songs like "Flying" ("It hit me so hard, / I could not see, / That shot was only meant for me") to loving expressions of fatherhood in songs like "My Little Man," written for his infant son.

The only thing that dragged down the set was the predominance of cover songs in its second half. In particular, the two covers of "Chocolate Jesus" by Tom Waits and "Chelsea Hotel" by Leonard Cohen felt particularly forced.
A musician can have his or her influences, of course, but there is such a thing as leaning too heavily on one's forebearers. After all, Waits and Cohen come up in practically every Rowe review ever written; it doesn't serve to belabor that point.

The other covers, however, were luminous: a slow, moving rendition of "Long Black Veil" and a rousing, set-ending version of Richard Thompson's "1952 Vincent Black Lightning."

This past semester's coffeehouse series has made it awfully hard to confine the opening act to a footnote in the review. Some of the acts—Matrimony and Christopher Paul Stelling come to mind—very nearly outshone the headliners. The opener for Rowe, the quirky, Cambridge-based pop duo You Won't, continued the this semester's trend and made a fine attempt to steal the show.

Though coffeehouses end up being more interactive for performers than most other spaces they play in, You Won't made it their business to really cozy up with the audience. In fact, the two members spend several songs standing and sitting out in the crowd itself, playing entirely acoustic.

But it was not just the audience-interaction; it was the unique—even absurd—instruments that they played. Among the instruments that percussionist/multi-instrumentalist Raky Sastri pulled out were harmonica, melodica, melodeon and the musical saw.
But their set was not entirely spectacle; behind the veil of odd instrumental colors, there was some solid pop songwriting.
Theirs skills shone, obviously, when they were seated out in the audience, with lead singer Josh Arnoudse standing on a chair in the middle of the audience and Sastri nearby, wailing on his melodeon.
"This might be a little loud," Sastri warned the audience members within whispering distance of the instrument. Maybe so—but it was a welcome loudness, a welcome closeness.