Arts and Entertainment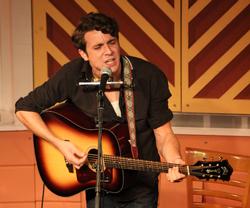 Joe Pug captivates CAB's coffeehouse
By Taylor Coe '13
November 8, 2012
Joe Pug is one of those performers who has got it. Calling it charisma would get us part of the way there, but Pug's performance moves far beyond just charm. Over the course of an hour, Pug zipped his way through a set that I will shamelessly tag as Dylan-esque. And that's not even to cite the great singer-songwriter himself - more to allude to the mythic presence of Dylan—a presence that Pug inhabited on the stage a few Thursdays ago in the Barn.
Part of it can be attributed to the utter simplicity of presentation. Unhitched from any kind of backing band, Pug played on his own—voice, acoustic guitar and an array of harmonicas. It was a tour de force performance. Few people left the Barn that night unaffected.
Anaïs Mitchell acted as the perfect lead-in for Pug - equally on her own up on the stage - her layered, intricate studio tracks were reduced to shimmering, acoustic variations. Her songs "Wilderland" and "Young Man in America," clearly transitioning one to the other on the record, ended up artfully entwined in her performance. Tending toward darkness, her voice and her energetic guitar kept her complex songs from slipping into melancholy.
But Pug, of course, carried the night. Ranging from the galloping "Hymn #101" to the dark and under-stated opener "Speak Plainly Diana," Pug dug deep in the American psyche, tapping into energy that has not been musically felt in the barn for a long time.
Speaking in his quiet, impossible-to-place drawl (he hails from Maryland), Pug drew in the audience with his banter between songs. One of the several highlights of his set was not only his cover of the Tex Thomas tune "Deep Dark Wells," but also the introduction that he gave before playing it.
Pug explained how, following his move from Chicago down south to Austin, he bonded with his landlord over long-lost Texas country records, Thomas's music among them. Before launching into the song, Pug passionately advocated that the song be considered part of the great American folk tradition.
Thomas's song, about the nature of redemption, is beautiful in Pug's care, but you can hear how the song strains against even his nearly perfect interpretation. It is, as Pug points out, a tune that deserves broader commendation. Similarly, it's not hard to imagine other songwriters singing Pug's praises in the same way.