Arts and Entertainment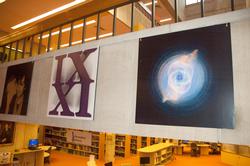 In Warhol's wake, art looks forward and back
By Maeve Gately '12, Art Critic
October 27, 2011
"15 Minutes: Homage to Andy Warhol," a multimedia exhibit that opened in the Burke Library viewing room on Oct. 5, features a series of 16 tribute pieces from artists, singers and cultural icons, all of whom were somehow connected to the iconic 70s pop artist.
The show, whose title comes from Warhol's famous declaration, "In the future, everyone will be world-famous for 15 minutes," pairs audio recordings on individual MP3 players with silkscreen images, which sit unobtrusively on the tops of bookshelves around the room. Each piece is labeled with an artist and a title (sometimes two, for the recording and the silkscreen). Though there is a panel at the end with short biographies of the artists, the pieces lack explanatory captions. The installments themselves do not necessarily progress in a particular order; but they are arranged in a line that invites the visitor to start near the library door and end around the Library's 24-hour reading room.
The interactive nature of the exhibit is distinctive: the visitor is forced to stop in front of each piece, put on headphones and focus on the image while listening to the recording. This participatory element increases the power of the works themselves but also emphasizes their inherent obscurity.
Some of the pieces are fairly straightforward in contributing a specific artist's voice to the broader narrative of Warhol's life. Others are far more arcane, even mystifying. Patti Smith's voice is melodic, almost hypnotic, as she reads a poetic eulogy to Eddie Sedgwick. Christopher Makos talks about the exhibit in a recording accompanying his photograph, "Warhol Kissing John Lennon." Lawrence Weiner's piece, "Vienna," combines two voices in overlapping recordings, one of which keeps repeating something along the lines of "there's a woman in a window […] and it's waiting." Jeff Gordon's recording, which accompanies a modified silkscreen of Warhol's iconic Brillo Box, features a man's voice, repeating "uh yes…uh no" on loop in almost-mind-numbing monotony. Like much of Warhol's art, each work is referential and thus tied into a web of cultural context which the viewer must work hard to unravel.
Culturally-referential by nature, the exhibit is rife with references to specific figures and art movements which even the well-informed visitor is likely to miss. Therefore, the show's main draw is also its greatest drawback.
Ultimately, this is not a show about Warhol or the 1970s or even about the turbulent, experimental movements in both visual art and music that Warhol's revolution inspired. It is a study in the complex interweavings of the art world itself, where Patti Smith writes a poem about a feminist who knew an artist who silkscreened a Brillo Box that Ivan Karp approved and Alexander Heinrici himself ended up silkscreened, and the rest of the world has been discussing ever since. The references are almost too convoluted to be discernable, but perhaps that's the point. So many disparate, contemporary movements can somehow trace their origins back to this one man, and yet the world he created exists, and evolves, beyond him.
As a whole, the exhibition functions well and successfully contributes an entirely new style to Hamilton's art scene. It is a fascinating look into a cultural explosion that much of our generation knows very little about; an exercise in experience, rather than total-comprehension; an immersion into a world of sound and silkscreen that is simultaneously powerful, mysterious and fleeting. But in order to appreciate these elements, the viewer must overcome a certain degree of confusion, which, to me, was a rather difficult leap.
The exhibit was curated by Jeff Gordon and Path Soong, who both have pieces in the show, and was previously at the Andy Warhol Museum in Pittsburgh. It will remain at Hamilton until Jan. 8, before travelling to the Museum of Contemporary Art in Beijing.