Arts and Entertainment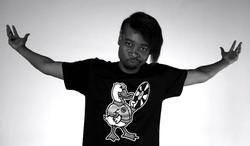 IMF bringing indie hip-hop sensation Danny Brown to Barn
By Jack McManus '13
November 29, 2012
Continuing their mission to attract the most exciting up-and-coming musical acts to our snowy rural campus, the Independent Music Fund just announced rapper Danny Brown as the headliner for their first event of the year, taking place the evening of Saturday, Dec. 8 in the rave-tested Fillius Events Barn. Hailing from Detroit, Brown's alternative sensibilities and unconventional style have established him as a leader amongst today's crop of blog-approved hip hop innovators, and he's reached mass audiences recently on high-profile tours with Kendrick Lamar, Childish Gambino, A$AP Rocky, Das Racist, Schoolboy Q and many others. Chip Sinton '13 will make his Barn debut DJing as F-CK+YR+AESTHETICSII to open the show.
After achieving moderate, local success with his group Rese'vor Dogs in the early 2000s, Brown released his first mixtape Detroit State of Mind in 2007 and his first full length album The Hybrid in 2010. This album first sparked the 31-year-old rapper's run in the spotlight, as DJs and hardcore hip-hop fans were intrigued by his frantic flow and unconventional whiny, high-pitched vocals. Many music critics have spoken out in favor of Brown's unusual sound as well, commending him for having the courage to embrace his weirdness rather than try to change himself to fit hip hop's often rigid conventions. This resistance to norms has become one of Brown's trademarks—in 2010 he missed out on a record deal with 50 Cent's G-Unit records simply because he refused to stop wearing skinny jeans and vintage t-shirts on stage.

In hindsight, Brown's partnership with G-Unit probably wouldn't have worked out. With his asymmetrical haircut, tight clothing and purposefully bizarre attitude, he doesn't fit the gangsta mold at all. After self-releasing The Hybrid, Brown found a musical home on the well-known DJ A-Trak's Fools Gold label, joining the company of dance wizards Chromeo, Laidback Luke, Trackademics and Duck Sauce, as well as Fool's Gold-related rappers like Lil B, Kid Sister and Kid Cudi. In this new creative environment Brown has been able to develop his musical taste for British Grime, prog-rock inspired mindset and caustic humor with full support from his label and growing audience. His new connections have also opened the doors for high-profile collaborations, as he's appeared on tracks with Raekwon, Pusha T, Big Sean, Childish Gambino, El-P, Mr. Muthaf-ckin' eXquire, Flosstradamus, CyHi the Prynce, J. Dilla and label boss A-Trak.
In the summer of 2011 Brown released his second official album XXX, offering it as a free download on his website before re-releasing it this past March on iTunes with three extra tracks. The album was acclaimed by critics like his earlier work, with the music magazine Spin naming it the top hip-hop album of 2011 and Pitchfork ranking it at No. 19 on their top albums of the year list. Brown also made a surprise appearance during Childish Gambino's anticipated performance at this year's Coachella Music Festival, spitting a verse on a remix of Gambino's "You Know Me" alongside Kendrick Lamar.
With his career still young and his stock rising, the IMF show next weekend may be our last chance to catch Danny Brown in such an intimate environment before he moves on to larger venues like former IMF acts Band of Horses, Yeasayer, Beach House and The New Pornographers have since appearing on campus. It also may be the only time you'll hear the word "swag" used in its appropriate context all year, so that's not to be missed.