Arts and Entertainment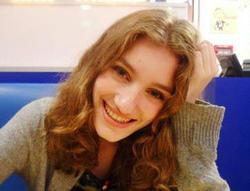 Coffeehouse Spotlight: Emma Wilkinson '16
By Kaitlin McCabe '16
November 29, 2012
Everyone enjoys music. From having a favorite band to a favorite genre, people constantly surround themselves with sounds that they love.
Yet, for some people, music is more than an interest. It is a passion, a driving force in their very existence. Singer-songwriter Emma Wilkinson'16, for example, lives through music.
"It is so important to me," she says. "It is me. I put my life, love, anger, anguish, elation—I put everything into my songs, and it feels so good."
Music has been a major part of Wilkinson's life since she was young. Between the ages of seven and fourteen, she performed in New York City's Metropolitan Opera, a rare opportunity that allowed her to experience professional vocal training and sing in front of audiences of thousands.
Around this time, she also began to take guitar and piano lessons. At this point in her childhood, Emma says, her love of music developed from admiration to personal dedication; as she learned how to play the guitar, she found that through music, she could express emotions and thoughts. This discovery inspired her to write her own lyrics and set them to her own melodies.
When asked about her beginnings as a lyricist, she humorously explains, "I was mad at my 'boyfriend', and I wanted to write a song about him and why he didn't deserve me anymore."
Wilkinson continued to educate herself in the world of music by listening to the songs of the strong female musicians she came to idolize. Citing Ingrid Michaelson, Joni Mitchell, Carole King, Bonnie Raitt and Tracey Chapman as her musical influences, Emma developed her own voice through her acoustic-based songs.
"My music is just a way for me to vent," she says. "When I am delighted or melancholy, I'll write a song. When I want to remind myself of what is important. When I want to show my love for a great friend. When I can't stop thinking about something, I usually just write a song about it…[It's the] best way to get it out."
Above anything else, Emma's music is undoubtedly relatable. With topics ranging from boyfriends and breakups ("Something So Cruel") to insecurity and self-empowerment ("Stop Your Crying"), Wilkinson's songs tell stories of personal struggles and realizations to which anyone can feel a connection.
While Wilkinson does not currently possess aspirations to pursue a career in music, her love for it remains a pivotal force in her time at Hamilton College.
Having already played her music at previous Open Mic Nights and coffeehouses, Wilkinson's next performance will be Thursday, December 6th at the Fillius Events Barn Dinner Party. She also has her original songs on a personal page on YouTube (http://www.youtube.com/joyemmaa).