Hamilton, Colgate unite to form ice skating team
By Lisa Labate '14
SPORTS CONTRIBUTOR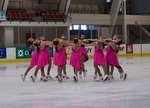 A new Hamilton-Colgate collaboration has recently glided combine the scene: Hamilgate, a synchronized skating team that is registered with US Figure Skating at the Open Collegiate level. The team consists of four Hamilton students, Alex Orlov '13, Jane Barnard '13, Bridget Fitzpatrick '13 and Julie Webster '11, as well as eight students from Colgate.
Considering the school rivalry, uniting the two schools may seem like an unexpected move, but Webster saw it as part of the team's charm: "I think that Hamilton students need to take advantage of the proximity of Colgate and we should try to do more things together. The rivalry isn't as evident as everyone thinks; they enjoy working with us as much as we like to spend time with them."

Hamilgate has been competing with teams from all over the east coast, even traveling as far as North Carolina. Its most recent competition was in Lake Placid on Feb. 5, where it took fifth place out of 11 teams, an impressive feat for such a new team.
Each wearing bright, neon pink dresses, the team performed its program to Lady GaGa's "Dance in the Dark." In this sport, everything must be in sync – even their uniforms.

Synchronized skating is incredibly detail oriented. In Hamilgate's program, the skaters must complete a number of elements, including a circle, block and pinwheel, all of which must have synchronized footwork and body positioning.

Hamilgate trains at least once a week with its coach Anne-Marie Lemal Brown, who is also involved with Hamilton and Colgate club teams, as well as local clubs in the area.

Even with the competition the trip to Lake Placid, where the team stayed at the Olympic Training Center, was not all work and no play; the team found themselves in a snowstorm after their competition, which allowed them an extra night of fun.

"There was a huge blizzard right after we competed on Saturday, so we ended up staying and just got to have a good time," said Webster.
All in all, the project seems to be a success. Webster has the right to be especially proud of the team: "I am so happy that we were able to pull this team together [by] my senior year since I have been trying to work it out since my freshman year!"

While Webster will graduate this spring, Orlov, Barnard and Fitzpatrick look forward to the program's development in future years.