Red

Weather
Only, here and there, an old sailor,
Drunk and asleep in his boots,
Catches Tigers
In

red weather

.


—Wallace Stevens




"Disillusionment of Ten O'Clock"
News
May 1, 2008
Red Weather presents its Spring Issue Release Party! May 1st from 4:30-5:45 PM in the Events Barn. Some of our fiction and poetry contributors will read their work, and we'll be showcasing some art pieces, too. If you can't make the party, please drop by for some punch and our new issue.
April 10, 2008
Red Weather hosts fiction reading by Kevin Moffett, 4:10 PM in the Red Pit.
Spring 2008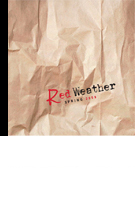 Editor in Chief, Poetry Katie Naughton '08
Editor in Chief, Fiction Emily Tang '08
Editor in Chief, Art Chiquita Paschal '10
Design Josh Cheung '08
Poetry Editors Kathryn Arpino, Jackie McMahon, Georgia Mierswa, Julia Mulcrone, Spencer Petticrew-Shawcross, Chris Stedman-Parmenter, Emily Zahm
Fiction Editors Brendan Conway, Michael Harwick, Sarah Maas, Travis Mockler, Emma Simmons, Alicia Specht, Olivia Wofgang-Smith
Art Editors Lisa Buch, Jessica Cox, Vanessa Cruz, Rebecca Fornaby, Julio Monterro, Isha Ojha, Amanda Pooler, Margaret Schultz
Red Weather is published twice a year by the Student Media Board and the Trustees of Hamilton College. The editorial staff would like to thank the Board and the Trustees for their support of this publication. This issue was printed with the help of the Hamilton College Print Shop. Submissions for Red Weather should be sent as an e-mail attachment to rweather@hamilton.edu.
Fall 2007
Editor in Chief, Poetry Katie Naughton '08
Editor in Chief, Fiction Rachel Richardson '09
Design Josh Cheung '08
Editors Sarah Maas '08, Spencer Petticrew-Shawcross '08, Amanda Pooler '08, Emily Tang '08, Kym Giacoppe '09, Jeff Seymour '09, Kathryn Arpino '10, Chris Stedman-Parmenter '10, Emma Simmons '11, Alicia Specht '11
Web Design Rachael Arnold '08